This no fuss slow-cooker recipe is perfect for those busy fall nights. With it's rich tomato broth, savory Italian sausage, nutrient-rich kale, and hearty mashed potatoes, this stew is sure to be a hit with everyone!
Serves 6
Hands-On Time: 15m
Total Time: 8hr 30m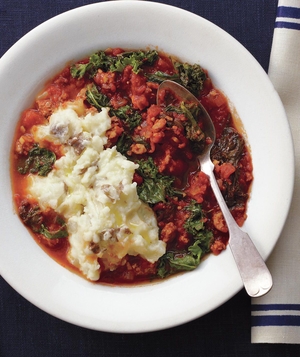 Ingredients
1  pound  sweet Italian sausage links, casings removed and broken into pieces
1  large onion, chopped
1  28-ounce can diced tomatoes
2  tablespoons  tomato paste
2  cloves garlic, chopped
kosher salt and black pepper
2  large russet potatoes (about 1 pound)
1  small bunch kale, stems discarded and leaves torn (about 7 cups)
1/2  cup  milk
1/2  cup  olive oil, plus more for serving
Directions
1. Combine the sausage, onion, tomatoes and their juices, tomato paste, garlic, 1 cup water, and ¾ teaspoon each salt and pepper in a 4- to 6-quart slow cooker. Nestle the potatoes in the liquid and top with the kale.
2. Cover and cook until the potatoes are tender, on low for 7 to 8 hours or on high for 4 to 5 hours (this will shorten total recipe time). Transfer the potatoes to a medium bowl. Add the milk, oil, and ½ teaspoon each salt and pepper to the bowl and mash.
3. Serve the stew topped with the mashed potatoes. Drizzle with more olive oil, if desired.
Tip
To make the morning less hectic, prep this the night before: Combine everything but the sausage and kale in the slow cooker and refrigerate, covered. In the morning, just add the sausage, top with the kale, and start stewing.
Recipe and photo from www.RealSimple.com