Risotto usually requires endless stirring, but slow cookers can do a lot of the work, with surprisingly good results.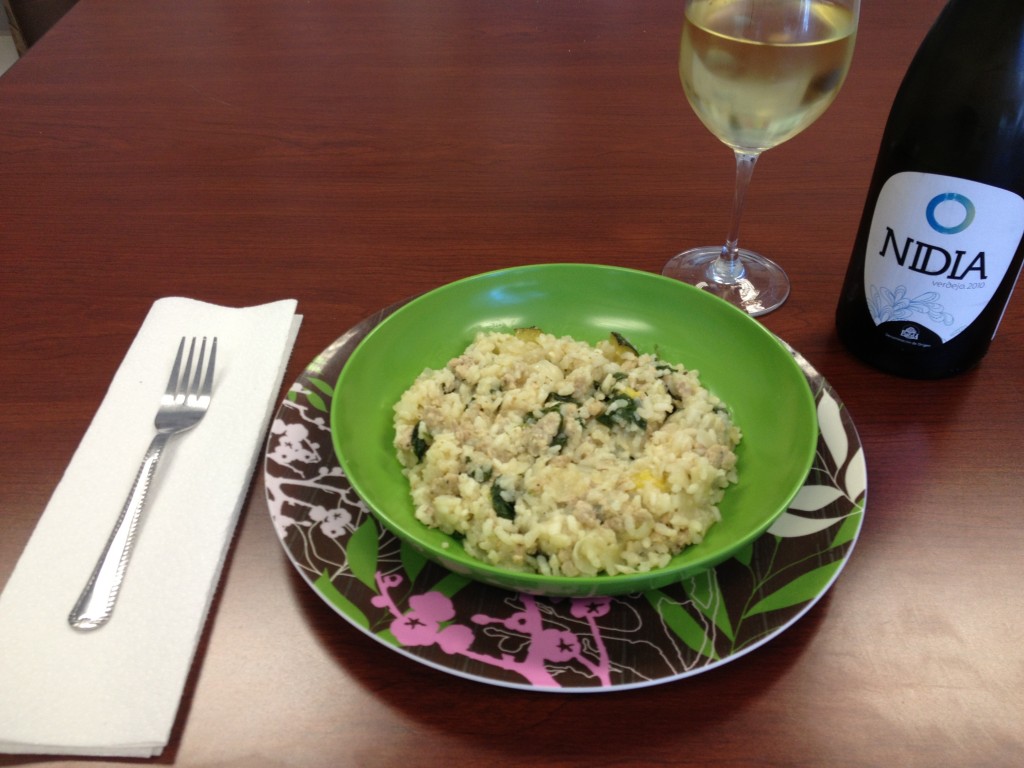 4 1/2 cups low-sodium chicken broth
3/4 pound sweet Italian sausages, casings removed
3 tablespoons water
5 tablespoons unsalted butter
1 small onion, cut into 1/4-inch dice
1/2 cup dry white wine
2 cups arborio rice (14 ounces)
1 medium zucchini, cut into 1/2-inch dice
1 tablespoon kosher salt
5 cups baby spinach (5 ounces)
3/4 cup freshly grated Parmigiano-Reggiano cheese, plus more for serving
Freshly ground pepper
Turn a 6- to 7-quart slow cooker to high. In a saucepan, bring the broth to a simmer. In a skillet, cook the sausage with the water over moderately high heat, breaking it up with a spoon until the water has evaporated and the sausage is browned, 10 minutes. Transfer the sausage to the slow cooker.
In the same skillet, melt 3 tablespoons of the butter. Add the onion and cook over moderate heat until translucent, 4 minutes. Add the wine and cook, scraping up any browned bits until the wine is reduced by half, 2 minutes. Stir in the rice and cook until all of the wine has been absorbed. Scrape the rice into the slow cooker. Add the hot broth, zucchini and salt and cover. Cook for 1 hour, stirring once halfway through. The risotto is done when the rice is al dente and most of the liquid has been absorbed. Turn off the slow cooker.
Stir the spinach into the risotto until just wilted. Stir in the remaining 2 tablespoons of butter and the grated cheese, season with pepper and serve immediately, passing additional cheese at the table.
SUGGESTED PAIRING
More and more wineries in California are producing Rhône-style blends, merging the power of Syrah with the fruitiness of Grenache, and often adding earthy Mourvèdre—a combination that works exceptionally well with this rich risotto.
ACTIVE: 35 MIN TOTAL TIME: 1 HR 30 MIN
SERVINGS: 6
CONTRIBUTED BY BETH HENSPERGER FROM WWW.FOODANDWINE.COM