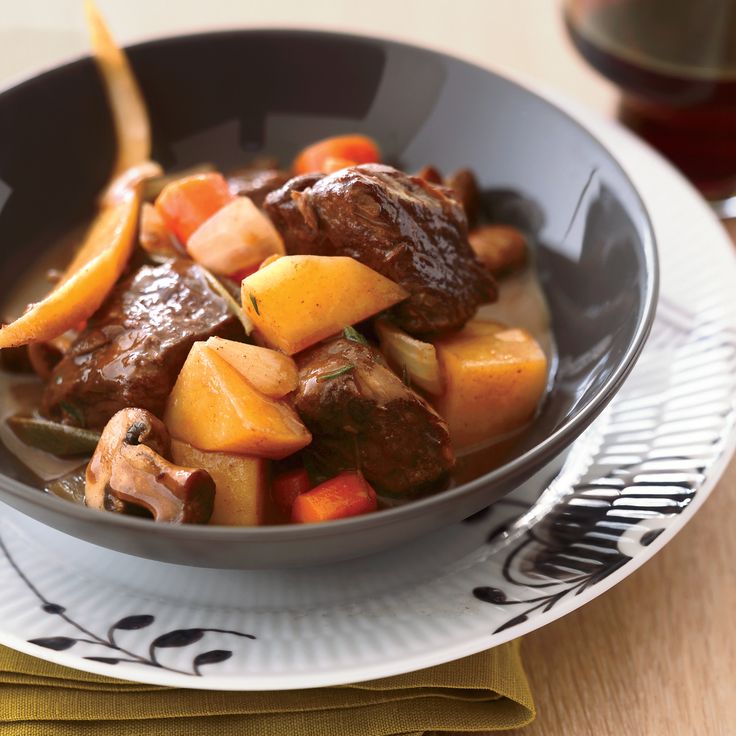 Perfect for winter, this stew uses short ribs instead of the tradition rump roast which results in succulent and fabulous dish that will leave you wanting more!
INGREDIENTS
3 1/2 pounds boneless beef short ribs, cut into 1 1/2-inch pieces
1/4 cup all-purpose flour
3 tablespoons extra-virgin olive oil
2 cups dry red wine
3 cups veal or chicken stock
6 carrots, cut into 1/2-inch dice
1 1/2 pounds Yukon Gold potatoes, peeled and cut into 1/2-inch dice
3 medium parsnips, peeled and cut into 1/2-inch dice
1 large onion, cut into 1-inch dice
1/2 pound cremini mushrooms, quartered
1 tablespoon thyme leaves, chopped
8 sage leaves, coarsely chopped
Kosher salt and freshly ground pepper
INSTRUCTIONS
1. In a large bowl, toss the short ribs with the flour. In a large enameled cast-iron casserole, heat the oil. Working in batches, cook the short ribs over moderately high heat until browned all over, about 6 minutes per batch. Discard the oil.
2. Return the meat and any juices to the casserole. Add the wine and boil until reduced by half, 8 minutes. Add the stock and bring to a simmer. Cover and cook over low heat until the meat is tender, 2 hours.
3. Skim any fat from the stew. Stir in the carrots, potatoes, parsnips, onion, mushrooms, thyme and sage. Cover and simmer over low heat until the vegetables are tender, about 35 minutes. Season with salt and pepper and serve.
Recipe from Ethan Stowell, courtesy of www.foodandwine.com.