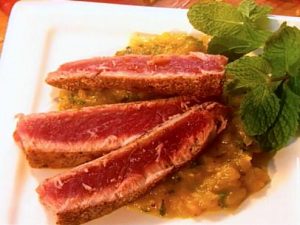 Ingredients:
2 tablespoons good olive oil, plus extra for searing
1 1/2 cups diced yellow onion (2 onions)
2 teaspoons peeled, minced fresh ginger
1 1/2 teaspoons minced garlic
2 ripe mangos, peeled, seeded, and small diced
1/3 cup freshly squeezed orange juice
2 teaspoons light brown sugar
1 teaspoon kosher salt
1/2 teaspoon freshly ground black pepper
1 to 2 teaspoons minced fresh jalapeno pepper, to taste (1 pepper)
2 teaspoons minced fresh mint leaves
2 tuna steaks
Directions:
Saute the olive oil, onions, and ginger in a large saute pan over medium-low heat for 10 minutes, or until the onions are translucent. Add the garlic and cook for 1 more minute. Add the mangos, reduce the heat to low and cook for 10 more minutes. Add the orange juice, brown sugar, salt, black pepper, and jalapeno; cook for 10 more minutes, until orange juice is reduced, stirring occasionally. Remove from the heat and add the mint. Serve warm, at room temperature, or chilled.
Heat a saute pan over high heat for 5 minutes until very hot. Season the tuna liberally with salt and pepper. When the pan is very hot, add a drizzle of olive oil and then the tuna steaks. Sear for 2 to 3 minutes on each side, or until the outside is browned, but the inside is very rare.
Serve the tuna on top of the mango salsa.
Recipe from Ina Garten courtesy of www.foodnetwork.com