Fast and easy, this impressive dish pairs great with steamed veggies and Domaine Sigalas Santorini Assyrtiko 2014 from this month's Collector's Series!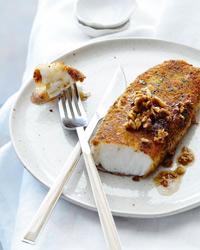 Ingredients:
1/2 cup hazelnuts
1 1/2 cups fresh bread crumbs
1/2 cup finely chopped flat-leaf parsley leaves
Salt and freshly ground pepper
6 tablespoons unsalted butter
2 tablespoons fresh lemon juice
1/4 cup extra-virgin olive oil
Four 6-ounce sea bass fillets
All-purpose flour, for dredging
2 large eggs, beaten
Directions:
Preheat the oven to 350°. On a baking sheet, toast the hazelnuts for 8 minutes, until fragrant. Using a clean kitchen towel, rub the skins off the nuts. Coarsely chop the hazelnuts.
Meanwhile, in a large bowl, mix the bread crumbs with the parsley, 1 1/2 teaspoons of salt and 1/2 teaspoon of pepper.
In a skillet, cook 4 tablespoons of the butter over moderate heat until browned, about 4 minutes. Add the chopped nuts and fresh lemon juice. Season with salt and pepper.
In a large skillet, melt the remaining 2 tablespoons of the butter in the olive oil over moderate heat. Season the sea bass fillets with salt and pepper, then dredge them in flour, dip in the beaten eggs and coat with the parsley and bread crumb mixture. When the butter starts to brown slightly, add the fillets to the skillet and cook until browned on the bottom, about 3 minutes. Flip the fillets and cook until just white throughout, 2 to 3 minutes longer. Transfer the fish to plates, spoon the browned butter alongside and serve.
Recipe and photo from www.foodandwine.com.