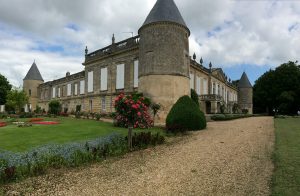 Saint-Émilion is Bordeaux's most important wine town and the region's hottest attraction. This walled, medieval village, perched atop a series of hills and surrounded by vines, is unquestionably the most beautiful wine village in all Bordeaux. Indeed, it is arguably the most beautiful wine village in all France. Nearly everything about Saint-Émilion is centered on wine; even the church in Saint-Émilion is a cellar. And lest you think that Saint-Émilion has just recently succumbed to contemporary commercialism or sold itself to the modern mania for all that is Bacchanalian, rest assured that very little has changed in principle in this village since antiquity: Saint-Émilion was founded by the Romans, who used it as a viticultural bastion in the burgeoning area they named Burdigala.
Interestingly, there are two distinct districts of Saint-Émilion, each possessing a special terroir. Both districts produce compelling red wines, but of a different sort. Typically, the côtes or hills upon the escarpment yield the fullest, slowest to mature wines of Saint-Émilion. Here the soil is nearly all limestone and the resulting wine is more apt to act like a great Cabernet based wine of the Médoc. The other distinct district of Saint-Émilion lies on the plateau adjoining Pomerol, where the soil is comprised of sand and gravel. Here the wines tend to be fleshier and quicker to mature. Each style is authentic Saint-Émilion, which allows the savvy consumer double the pleasure.
Merlot is the predominant grape of Saint-Émilion. Here Cabernet Franc and to a lesser extent Cabernet Sauvignon play important supporting roles. However, Saint-Émilion can be produced from Merlot alone or from any combination or percentage of the six traditional red Bordeaux grape varieties (Cabernet Franc, Cabernet Sauvignon, Merlot, Malbec, Petit Verdot, and Carmenère). No commercial white wine is made in Saint-Émilion or is permitted to be sold as Saint-Émilion.
Many of the most illustrious Bordeaux wines hail from Saint-Émilion, including the legendary Château Cheval Blanc.
Salud!
Don