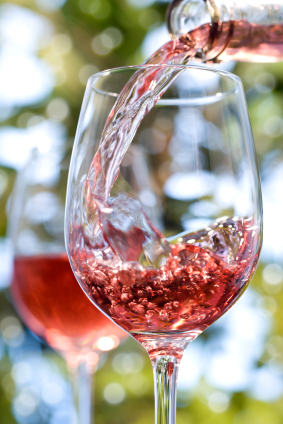 When the weather turns warm, the tree frogs and cicadas begin to sing, and barbecues and backyard parties are in full-swing, it is time to pour a glass of cool rosé – the summer's hottest wine.
Rosé has been popular in Europe for centuries and enjoys a long, illustrious history.  Nonetheless, with the exception of the low alcohol White Zinfandel craze of the 1980s, Americans have been reluctant to embrace anything pink but a high octane Cosmopolitan, until now.  Fortunately, long gone are the days when White Zinfandel is the only rosé game in town.  Today's rosé wines emanate from many different grape varieties and come in all different flavors, shades of color, and levels of sweetness from around the world.  However, it is dry rosés from California, Spain, South Africa, and most prominently Provence in southern France that constitute this summer's "hottest" wine.
Provence is the spiritual home of today's dry rosé.  It is a land that elicits visions of scintillating landscapes, eye stopping vistas, and undulating fields of lavender and massive cypress as they wave in the winds that wash the countryside clean.  Provence is also the birthplace of troubadours and Provençal, the lyrical language of poetry, and the planet's most endearing wines.  More than 140 million bottles of wine are produced annually in Provence, a region famous for its wines since the Roman era, and over 105 million bottles (75% of that entire region's wine production) is rosé.
Many of today's most popular domestic and imported rosé wines flow from traditional Provençal grape varietals such as Grenache, Syrah, Mourvèdre, Cinsault, Carignan and Rolle.  However, around the world, Merlot, Pinot Noir, Sangiovese, Tempranillo and other varietals make fine dry rosés, too.
Provençal rosés and many of their New World counterparts are dry, delicate wines that are much more akin to white wine than red wine, as they are produced like white wines with minimal skin contact and no time in oak barrel.  After harvest, a portion of the grapes undergo a cold maceration at various temperatures and lengths of time according to the grape variety in order to preserve the wine's delicate aroma. The remaining grapes are vinified by a direct pressing, which imparts a slight pink color from the skins of the dark grapes.  The wines are then blended and their élevage (upbringing) takes place entirely in stainless steel tanks until early February, when the young rose-colored wine is bottled for maximum freshness.  Rosés are this summer's "hottest" wines because they are fresh, flavorful, and served cold from a variety of premium grape varieties.  In most cases, dry rosés are at their best in the first year of their life, which means looking for the current vintage or most recent release.  Enjoy!
Salud!
Don