R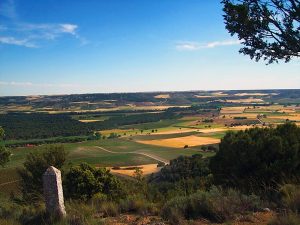 ioja has been dubbed "a land of history, light and color, vines and wheat, and above all, people for whom friendship is the greatest possible treasure" by the Rioja Minister of Tourism. Rioja is all of this and more, a land etched by history and endowed by a special wine that shares the region's name. Moreover, Rioja wine is as warm, friendly, and distinctive as the people who inhabit this unique land halfway between Spain's capital and the towering Pyrenees Mountains. Rioja also enjoys a reputation as the most approachable and recognized name in great Spanish wine and the home of Spain's best red wine bargains.
Vineyards have always influenced the history and character of the people in the Rioja. Long before France became a bastion of fine wine, the Romans had settled in Iberia and pushed inland from the Mediterranean to the headwaters of the Ebro River and its tiny tributary, Rio Oja, from which Rioja derives its name. In Rioja, the Romans found ideal conditions for the cultivation of Spain's most important indigenous grape varietals, Tempranillo, Mazuelo, Graciano, and Garnacha (Grenache), which today constitute modern red Rioja. Given its long history for continuously producing fine red wines, Rioja not surprisingly received Spain's first Denominaciones de Origen (D.O.) in 1933.
It is Rioja's unique blend of red grapes, coupled with an often lavish hiatus in small oak barrels, which yields warm, truly dry, yet richly fruity red wines of great finesse and perfume, many of which can appear nearly immortal in great vintages. Although a few names in Rioja carry hefty price tags, the vast majority of red Rioja comes from 132,000 acres and three distinct zones (Rioja Alavesa, Rioja Alta, and Rioja Baja). These wines sell for far less than wines of comparable quality from elsewhere, making red Rioja one of the planet's greatest red wine bargains.
Red Rioja comes in four basic styles: Joven, Crianza, Reserva, and Gran Reserva. The amount of oak barrel aging, coupled with time in the bottle before release, determines the designation. These styles begin with Joven, which receives little or no time in oak barrels, and culminates with Gran Reserva, which matures in barrels for two or more years and cannot be sold before its fifth birthday.
The best bargains in Rioja are among the Joven, Crianza, and Reserva designations. Although many old Gran Reservas can be exceptional, others can appear dried out and lacking in fruit due to their extended stays in barrel. In America, Rioja Reservas reign supreme, having found the fine balance between freshness, complexity, and maturity with just the right patina of oak to please the American palate.
Salud!
Don