Grilled or broiled, this recipe is chocked full of flavor! Marinated in red wine and topped with a delicious cherry tomato caprese salsa, this recipe is sure to get you out of your winter funk but is perfect for anytime of year!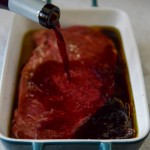 YIELD: SERVES 2-4
PREP TIME: 2-24 HOURS (FOR MARINADE)
COOK TIME: 15 MINUTES (INCLUDES REST TIME)
Ingredients:
1 (2 pound) flank steak, about 1 inch thick
1 1/2 cups dry red wine
1/2 cup olive oil
4 garlic cloves, minced
1 teaspoon salt
1 teaspoon pepper
1 pint cherry tomatoes, quartered
1 small shallot, diced
2 fresh mozzarella balls, chopped into pieces (about 1/2 cup)
10 basil leaves, freshly chopped
1 teaspoon balsamic vinegar
1/2 teaspoon olive oil
1/8 teaspoon garlic salt
pinch of pepper
Directions:
Whisk olive oil, red wine, garlic, salt and pepper in a bowl until combine. Add flank steak to a ziplock bag or baking dish and pour marinade ingredients over top. Marinate (in the fridge!) for 2-24 hours, flipping steak a few times to coat with marinade. When you're ready to make the steak, heat the broiler in your oven on the highest setting and place an oven rack directly underneath. Broil steak for 6 minutes, flip and broil for 5 minutes more. If your steak is 1-1 1/2 inches thick, this should result in steak that is done medium-well. Let it rest for 10 minutes, then slice thin strips on an angle. You can cook the steak however you'd like! You can grill it if desired.
While the steak is cooking or resting, combine quartered tomatoes, shallot, mozzarella, basil, garlic salt and pepper in a bowl, tossing to combine. In a small bowl, stir together olive oil and balsamic, then pour over top and toss to coat. Just a hint: if you mozzarella comes marinated in olive oil, you can use that oil for the salsa. That's what I did!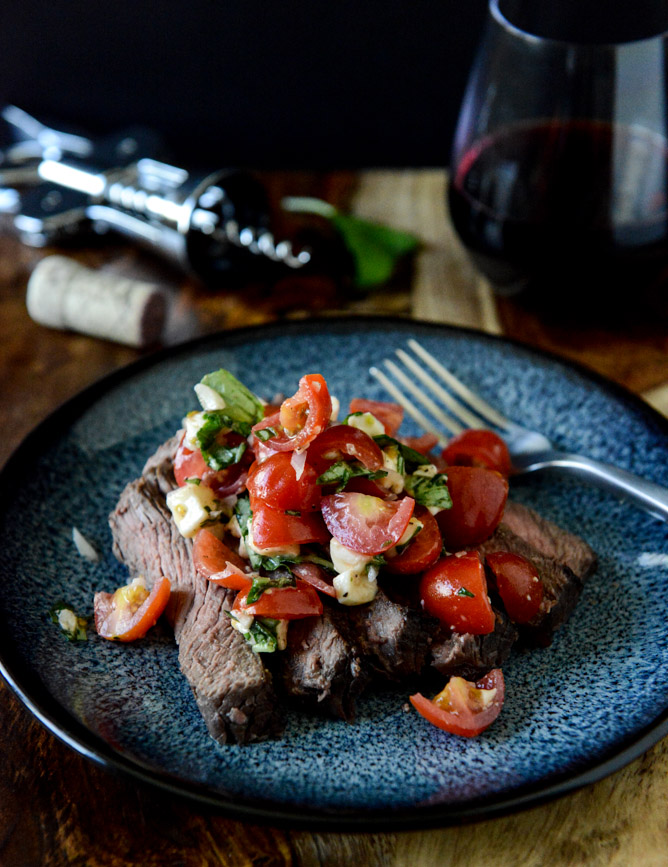 Recipe and photos from: www.HowSweetEats.com