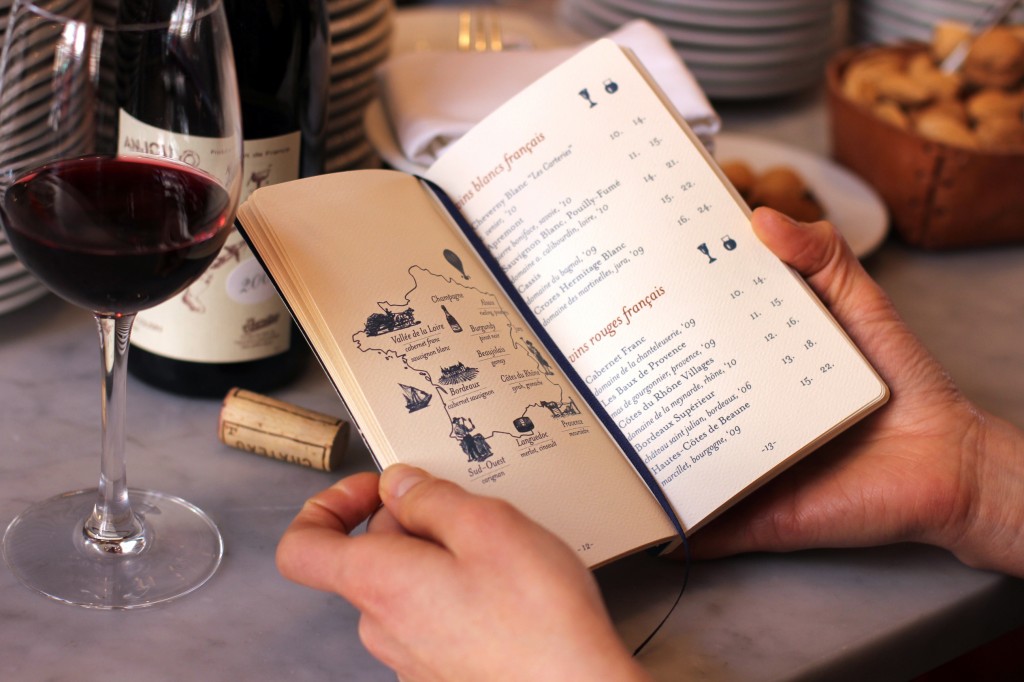 Once a diner decides upon price and category (White, Red, Rosé, or Sparkling) from a restaurant wine list the real challenge begins, but so does the fun if one knows how to break the codes and make the connections between Old World wines and New World wines.  Much of the confusion and difference comes down to varietal labeling (Chardonnay, Cabernet Sauvignon, Pinot Noir, etc.) in the New World versus generic labeling in the Old World (Burgundy, Chianti, Rioja, etc.).  This is especially important when a large number of wines from France, Italy, and Spain appear on a wine list.
For starters, all white French wines from Burgundy, which include Chablis, Macon-Villages, Pouilly-Fuissé, and the wines of Chassagne and Puligny are all made entirely from Chardonnay grapes.  On the other hand, white Bordeaux springs almost exclusively from Sauvignon Blanc and Semillon, with the emphasis on the former.  Sancerre, another popular  French white wine on restaurant wine lists, comes from all Sauvignon Blanc.  Red Burgundy, which includes many place names (Beaune, Côtes de Nuits, Pommard among a host of others) must be made from 100% Pinot Noir grapes.  And Grenache and Syrah constitute the major grape varietals found in the red wines of southern France, including the Languedoc and the Rhône Valley: think Côtes-du-Rhône, Châteauneuf-du-Pape, Corbières, Fitou, Minervois, etc.  The latter constitute some of the best red wine values.  The problem is the grape variety or varieties rarely appear on the label.
Italy can be a bit more daunting because of the proliferation of varietals, but even there, several great red grapes appear ubiquitously: Barbera and Nebbiolo from Italy's Piedmont, and Sangiovese from Tuscany and throughout central Italy.  A clone of Sangiovese plays an integral role in all Chianti, Brunello, Vino Nobile and nearly all Tuscan reds.  Many of Italy's most popular white wines (Frascati , Orvieto, and Soave for example) bear only the name of their place of origin and are blends of indigenous grape varietals not widely grown outside of Italy.  For the record, they are typically at their best in the first three years of life.
And then there is Cava.  Cava is Spain's answer to Champagne, except it goes down more easily than Champagne partly because it's fun and easy to drink and one need not blow a paycheck on a bottle at a restaurant.  Cava is made from a variety of indigenous Spanish varietals along with an increasing amount of Chardonnay.  Meanwhile, Spain's most popular red wines, Rioja and Ribera del Duero, emanate all or primarily from Tempranillo.  Tempranillo rules the finest growing areas of Spain, though old vine Garnacha (aka Grenache elsewhere) from Calatayud, Castilla y Leon, La Mancha, and Toro, can be equally satisfying and constitute exceptional value.  So, let's start breaking those intimidating codes and enjoy perusing the restaurant wine list.
Salute!
Don
photo credit: ilovebuvette via photopin cc