A quick and easy creamy goat cheese pumpkin alfredo with crispy fried sage.
Prep Time: 5 minutes Cook Time: 10 minutes Total Time: 15 minutes Servings: 2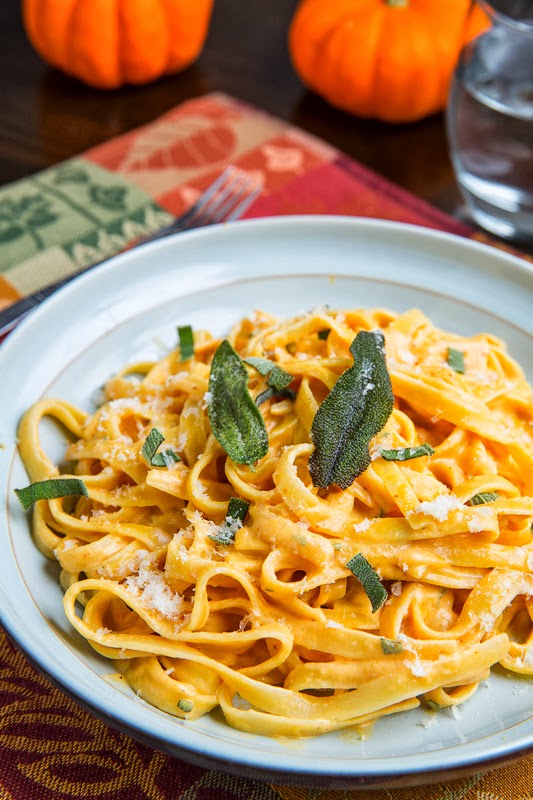 Ingredients:
6 ounces pasta
1 tablespoon butter
1 clove garlic, chopped
1 cup milk (or heavy/whipping cream)
1/2 cup pumpkin puree
4 ounces goat cheese
1/4 cup parmigiano reggiano (parmesan), grated
1 tablespoon sage, sliced thinly
1/4 teaspoon pumpkin pie spice
salt and pepper to taste
1 tablespoon butter
1 handful sage leaves
Directions
1. Cook the pasta as directed on the package.
2. Melt the butter in pan over medium heat, add the garlic and cook until fragrant, about a minute.
3. Add the cream, pumpkin puree, goat cheese, parmesan, sage and pumpkin pie spice and simmer until the cheese has melted.
4. Remove from heat and season with salt and pepper.
5. Melt the butter in a pan over medium heat, let it turn a light brown, add the sage and fry until crispy.
6. Serve hot over the pasta garnished with more parmesan and crispy fried sage.
Option: Replace the goat cheese with a mild blue cheese like gorgonzola dolce.
Option: Add Sauteed mushrooms.
Recipe and photo from: www.ClosetCooking.com