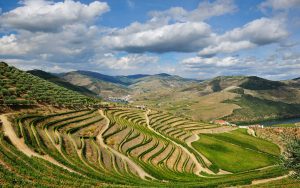 The quality of the finest Portuguese wines has never been in doubt. For centuries the fortified wines of Portugal, most notably Port and Madeira, have been duly lauded for their quality as well as their individuality. And even today, few would argue that Vintage Port and the finest Madeira do not deserve their present reputations as two of the world's greatest and longest lived wines. But there has always been much more to Portuguese wine than Portugal's two iconic fortified wines or the oceans of pleasant but otherwise innocuous rosé offerings (remember Lancers and Mateus) that flooded the American market in the early 1970s. So why have we not seen more of Portugal's excellent wines?
Sadly, Portugal like its Iberian neighbor Spain suffered political and economic instability throughout much of the 20th century and languished behind other top wine producing nations in marketing their best wines and in improving the quality of its wines. In addition, Portuguese producers were slow to adjust to market tastes. Many of Portugal's traditional wines were robust rustic reds that required considerable time in bottle to attract the attention of international consumers who were growing increasingly accustomed to more immediate gratification. Few Americans in particular understood the need to cellar the splendid red Garrafeira (Special Reserve) offerings from Dão and elsewhere in order to reap gustatory rewards.
However, what most delayed the appreciation of Portugal's exceptional red wines were government regulations that called for the mandatory use of co-operatives in Dão, Portugal's leading and most recognized appellation for still red wines. The co-operatives had the exclusive right to the grapes grown in the region and a monopoly on making the wine sold to private merchants. Although the intent of the regulations was to create a national identity for Dão and promote its quality, the effects were adverse due to a lack of competition. What resulted were many inferior, sometimes dirty wines that hardly did justice to the revered name of Dão. Fortunately for Dão and Portuguese wine in general, Portugal's application to the European Union in 1979 prompted an end in the 1980s to such regulations and monopolistic practices. Once again quality was allowed to come to fore.
Moreover, Dão is hardly the only name to look for in Portuguese red wine. The region around Lisbon and the sprawling Alentejo also fashion excellent red and white wines. In addition to producing a treasure trove of fine wines from the Douro to the Algarve, Portugal has developed a penchant for fashioning Vinho Verde, a light, highly quaffable white wine that can be enjoyed with abandon to accompany Portugal's splendid seafood. It's time to rediscover and explore the treasure trove of wines that sunny Portugal has to offer. Enjoy!