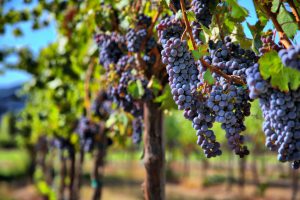 Pinot Noir grapes are, without a doubt, one of the world's most expensive grapes to grow, as well as one of the most difficult grapes to cultivate. Like an orchid, it requires constancy, just the right soil with a precise environment to thrive, and temperatures that are neither too cool nor too warm. More often than not, the temperamental Pinot Noir grape acts as a jealous and demanding lover. However, when the stars align, the terroir is ideal, and the winemaker possesses enough knowledge of the finicky, thin-skinned Pinot Noir grape to know when less is more in the winemaking process, Pinot Noir becomes transfigured and the wine it yields shines with a luster like no other.
Adored by connoisseurs and idolized by collectors and critics, Pinot Noir enjoys worldwide appeal. Pinot Noir's ancestral home is France, where it is responsible for all of the great red wines of Burgundy, including Chambertin, Clos de Vougeot, and Romanée Conti – the latter being the world's most expensive wine. For centuries, French Burgundy enjoyed the reputation as the only great Pinot Noir. However, in the past forty years, California's Carneros, Monterey, Russian River, Santa Barbara, and Santa Lucia Highlands appellations have lured Pinot Noir lovers by fashioning world-class Pinot Noirs. Oregon's Willamette Valley, New Zealand's Central Otago, and most recently Chile's cool Casablanca Valley also rank as meccas for the mercurial Pinot Noir.
Although fine Pinot Noir will never be cheap, it need not break the bank. Some exceptional affordable French Burgundies still exist, including the 2012 Domaine Jacques Girardin Clos Rousseau Premier Cru Santenay, and the 2010 and 2012 Jacques Girardin Les Feuillets Premier Cru Savigny-les-Beaune. From California, Fore Family Vineyards' 2009 and 2010 Carneros Napa Pinot Noirs truly outperform the pack by delivering complex, age-worthy Pinot Noirs that keep on giving. Benovia, Freeman, Molnar, Paraiso, and Walt are other outstanding boutique California producers of world-class Pinot Noir, but whose wines cost a fraction of most Premier and Grand Cru French Burgundies.
Walt's La Brisa and Blue Jay offerings are especially worth seeking out. Oregon's Willamette Valley holds another treasure trove of outstanding Pinot Noirs. Bethel Heights 2012 Aeolian Estate Eola Amity Hills Pinot Noir is just the most recent success from this pioneering Willamette Valley family estate. And from lands "down under," few can match Josef Chromy in Tasmania or Rockburn in New Zealand's Central Otago in fashioning outstanding Pinot Noir. Enjoy!
Salud!
Don