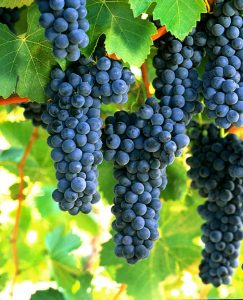 Petite Sirah, also known as Durif, is named for Francois Durif, the French botanist who first identified the grape in the late 19th century in the south of France. Petite Sirah is thought to be the result of a natural chance cross pollination between Syrah and the French grape Peloursin. Durif or Petite Sirah (the names are often used interchangeably) is rarely cultivated today in its native France. However, this adaptable grape has gained considerable favor elsewhere, with California its main proponent. It is increasingly popular in Australia and Israel, too, as the grape is well-suited to a dry, Mediterranean climate.
Although called Petite Sirah, there is nothing petite about Petite Sirah, except the size of its berries. Petite Sirah produces rich, powerful, and often tannic wines that are typically at their best within the first 5 or 6 years of life, but the finest versions benefit from extensive bottle aging and live for up to two decades or more.
Petite Sirah has a long history in California where it has flourished since the 1870s. A favorite of Sonoma County's Italian immigrant population for its deep color, rich fruit flavors, and tannic structure, Petite Sirah quickly found a place among California's "field blends," wines that were enamored by California's immigrant population and the state's burgeoning population. At the turn of the 20th century, Petite Sirah was reputed to be among the three leading grape varieties planted in California. Zinfandel and Mourvèdre were the other players in that triumvirate. Although not nearly so widely cultivated today, Petite Sirah is enjoying resurgence, both as a key component in many of California's finest Zinfandels and popular field blends but also on its own as a single varietal. Rich dark fruit, plenty of robust flavors, and ample tannins make Petite Sirah popular among American consumers.
Salud!
Don