Thomas Keller's Panko-Coated Chicken Schnitzel is simple yet delicious and is sure to please your family and guests alike. Try pairing it with a fresh salad and mashed potatoes.
Total Time: 15 Minutes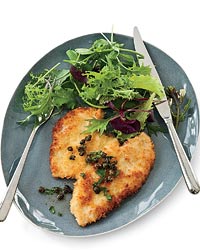 Servings: 4
Ingredients
1 cup flour
3 eggs, beaten
2 cups panko
4 skinless, boneless chicken breast halves (about 6 ounces each), butterflied and pounded 1/4-inch-thick
Salt and freshly ground pepper
1/4 cup canola oil
6 tablespoons butter
2 teaspoons capers
2 tablespoons lemon juice
1 tablespoon chopped parsley
Directions:
Set the flour, eggs and panko in three separate shallow bowls. Season the chicken cutlets with salt and pepper. Dredge the chicken in the flour, shaking off any excess, then dip in the eggs and coat thoroughly with the panko, pressing lightly to adhere.
In each of 2 large skillets, heat 1/4 cup of canola oil. Add the chicken and cook over moderately high heat, turning once, until golden and crispy, about 3 minutes. Transfer the chicken to a paper towel-lined baking sheet and sprinkle with salt.
Meanwhile, in a small saucepan, melt the butter and cook over moderately high heat until browned and nutty, about 4 minutes. Stir in the capers, lemon juice and parsley; spoon over the chicken and serve.
Recipe and photo from www.FoodandWine.com