This elegant yet simple dish is perfect for a weeknight dinner or weekend dinner party that will please everyone!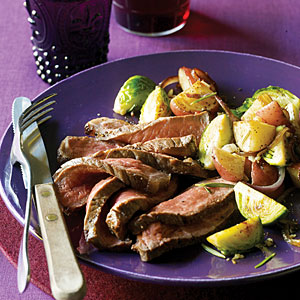 Ingredients:
1 pound small thin-skinned potatoes, cut into chunks
8 ounces brussels sprouts, quartered
2 New York strip steaks (about 12 oz. each)
1 tablespoon balsamic vinegar
1/4 cup extra-virgin olive oil, divided
2 teaspoons kosher salt, divided
1 1/4 teaspoons pepper, divided
2 cups slivered red onion
1/4 cup dry white wine, such as Sauvignon Blanc
2 garlic cloves, chopped
2 teaspoons fresh rosemary leaves
Preparation:
1. Simmer potatoes in a large saucepan of water until tender when pierced, 8 to 10 minutes; in last minute, add brussels sprouts, cooking just until they turn bright green. Drain.
2. Preheat broiler. Rub steaks with vinegar, 1 tbsp. oil, and 1 tsp. each salt and pepper. Put steaks on a broiler pan; broil 6 in. from heat, turning once, 8 minutes for medium-rare.
3. Heat remaining 3 tbsp. oil in a 12-in. frying pan over medium-high heat. Add onion and cook, stirring as little as possible, until well browned, 4 to 5 minutes. Add potatoes and brussels sprouts and cook until browned slightly, about 4 minutes. Add wine, scraping up any caramelized bits from bottom of pan. Stir in garlic, rosemary, and remaining 1 tsp. salt and 1/4 tsp. pepper. Serve with sliced meat.
Recipe and photo from: www.MyRecipes.com