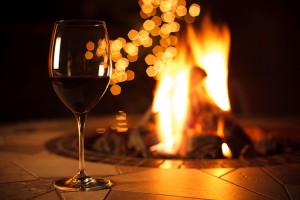 What a winter this has been! Here it is March and spring has not yet sprung in my neck of the woods or in many other places around the country either, so rather than turn my sights to springtime wines, I am still looking for complex, robust reds to ward off what appears to be a terminal case of winter. Here are a few beauties that I've come across recently that should get us through winter's last stand:
Alta Vintner's Reserve Napa Valley Cabernet Sauvignon 2011 – What a find this wine is. Grown on the heights of Atlas Peak, this reserve Cabernet positively sings from the glass. Balanced, complex and thoroughly palate pleasing, this wine makes me forget about the weather outside. Better still, it tastes great now, with or without aeration.
Benovia Sonoma County Zinfandel 2011 – There's no wimp in this Zinfandel. With 15.8% alcohol and a boatload of flavor to bolster its body, Benovia's Zin is sure to ward off what's left of winter. Give it some aeration and let it get your blood pumping and your mouth watering.
Château St. André Corbin St. Georges-St. Emilion 2012 – Although not as bold as some of the other winter warmers, this young Bordeaux is too delicious to pass up. It offers terrific aromatics, a wealth of long smooth flavors, and ample amounts of silky tannins to chase away the winter blues. This young Bordeaux offers the perfect claret to drink now, though it should provide great drinking pleasure for a decade or more.
La Rioja Alta Viña Ardanza Rioja Reserva 2005 – La Rioja Alta is a traditional bodega that ages its reserve wines and releases them only as they approach maturity. This 2005 Reserva is the bodega's current release, and what a beauty it is. It's a traditional, full-bodied Rioja Reserva that offers plenty of savory cherry, plum, chocolate and espresso flavors to make weary humans forget the weather stained cares of life for a while.
Nus del Terrer Tarragona D.O. 2010 – An artful blend of 60% Grenache and 40% Cabernet Sauvignon from Spain's sunny Mediterranean Coast, the 2010 Nus del Terrer rivals in quality the greatest reserve bottles of Châteauneuf-du-Pape. It's bold, beautiful and jam-packed with flavor. It brings sun and warmth in every glass, and it's sure to put a smile on your face.
Drink up and enjoy!
Don