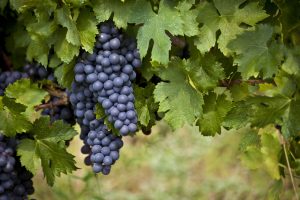 Spain has long been associated with great red wines, particularly the red wines of Rioja and Ribera del Duero from the iconic Tempranillo varietal, so much that other equally exciting indigenous varietals such as Garnacha, Prieto Picudo and most especially Mencia have had to take a back seat or, worse, have been ignored until the last several years.
Mencia is a premium red Spanish grape varietal found primarily in the Bierzo, Ribeira Sacra, and Valdeorras appellations of northern Spain. Although the Mencia varietal was once considered by enologists to be the direct ancestor and precursor of Cabernet Franc, recent DNA testing has shown that this is not the case. Mencia and Cabernet Franc share some common characteristics, but not the same ancestry. It is now widely believed that Mencia and Portugal's Jaen de Dão (Jaen for short) grape variety are one and the same, yet not everyone agrees. What we do know, however, is that Mencia is an ancient varietal that has been around for millennia. Bierzo's original plantings of Mencia likely date to the earliest Roman settlers in Bierzo, who cultivated the varietal two thousand years ago in what remains one of Europe's most isolated wine regions. It is the grape's isolation and not any inferior quality that has caused it to be overlooked outside its ancestral home.
Bierzo, Ribeira Sacra, and Valdeorras are remote areas, the latter two in Galicia, Spain's cool, windswept province astride the Atlantic. Certainly, it is the very isolation of the region that has allowed Mencia to survive and even thrive. Moreover, the average age of the hillside vines in these appellations can be quite old, which lends itself to the production of high quality wines. Consequently, the wonderfully fruity, spicy, and wholly intriguing Mencia varietal has recently been discovered, or rather re-discovered, by modern legions of wine drinkers. They are no doubt intrigued by this unique viticultural entity we call Mencia, whose many attributes are accentuated by organic farming, low vineyard yields, and modern winemaking techniques practiced by its finest purveyors whose emphasis is on quality rather than quantity. Since the 1990s Mencia has steadily grown in popularity to the point where there are now more than 20,000 acres of Mencia vines being cultivated in Spain. Altos de Losada, Peza do Rei, and Casal Novo are three consistent producers of Mencia whose wines are always worth seeking out.