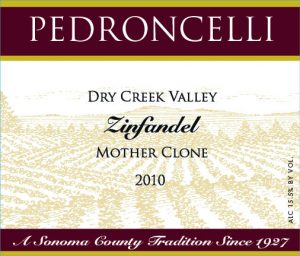 In March, The International Wine of the Month Club's Premier Series is proud to offer members four special wines from iconic producers on three continents. The 2014 Pedroncelli Mother Clone Zinfandel begins this month's venture. Pedroncelli's Mother Clone Zinfandel exemplifies the winery's gracious, balanced style of Zinfandel. A Wine Spectator Recommended Wine and the recipient of multiple gold medals in California wine competitions, including 93 Points and a Gold Medal at the 2017 North of the Gate Wine Competition, the 2014 Mother Clone Zinfandel is a traditional blend of 90% Zinfandel and 10% Petite Sirah. Tangy blackberry and dried cherry fruit, anise, bramble, and hints of black pepper and chocolate permeate the nose and flavor of this zesty Zinfandel. Although it weighs in at 14.9% alcohol, one would never guess that from the wine's balance, well-integrated tannins, and long, refreshing finish. The 2014 Pedroncelli Mother Clone Zinfandel is a true California Classic!
Our next feature this month, the 2016 Can Feixes Blanc Selecció, hails from Spain and the iconic Huguet brothers. Exceptional weather conditions in 2016 combined with the meticulous care the Huguet brothers afford their organic grapes has yielded a splendid 2016 Can Feixes Blanc Selecció. A recipient of 90 points from Wine Enthusiast and a Wine Enthusiast Top 100 Best Buy Wines for 2017, the 2016 Can Feixes Blanc Selecció comes across as pure, racy, and suave. A beautiful bouquet of apple, citrus blossoms, and melon, imbued with a gentle mineral underpinning, greets the nose. In the mouth, this rare Parellada-based wine seduces with subtlety and charm. Medium-bodied and devoid of oak, the organically grown 2016 Can Feixes Blanc Selecció preserves its natural fruit and mineral flavors to exude balance, elegance, and a true sense of place. Moreover, there are no hard edges to this wine, only a pleasant, refreshing finish.
This month's next feature is the 2015 Casas del Bosque Gran Reserva, the recipient of Best of Show at the Wines of Chile Awards 2017. Today world class Syrah flows from many wine regions around the world, but few can match Casas del Bosque's 2015 Gran Reserva Syrah from Casablanca Valley for quality and value. Imbued with a vivid purple color, deep, juicy blackberry and cassis flavors, and delightful hints of smoke, spice and violet, the 2015 Casas del Bosque Gran Reserva Syrah positively sings from the glass. Powerful, sappy, yet wonderfully smooth with ripe, well-integrated tannins, this award-winning Syrah provides superb drinking pleasure now but should continue to improve in bottle for several years to come. Enjoy!
Rounding out this month's Premier Series selections is the award winning 2016 Casas del Bosque Reserva Sauvignon Blanc, the recipient of 90 points from both James Suckling and Descorchados. It is also a Wine Spectator Recommended Selection. Casas del Bosque's 2016 Reserva Sauvignon Blanc continues Casas del Bosque's "hot hand" with Sauvignon Blanc and adds further testimony to the superiority of Chile's Casablanca Valley for growing cool climate grapes. The 2016 Casas del Bosque Casablanca Reserva Sauvignon Blanc offers the crispness of French Sancerre, the juicy citrus flavors of New Zealand Sauvignon Blanc, and beautiful fig and melon flavors along with an aromatic intensity that only Chile seems to impart to Sauvignon Blanc: a delightful mélange of citrus, melon, and herb that intensifies as the wine rests in the glass. Bright in color, captivating in aroma, and delicious in flavor, the exuberant 2016 Casas del Bosque Casablanca Reserva Sauvignon Blanc is even more alluring than the winery's award winning 2015 Reserva Sauvignon Blanc.

The International Wine of the Month Club's Collectors Series is proud to deliver three truly exceptional wines from three of the planet's most renowned winemakers. The 2015 Ben Glaetzer Bishop Barossa Shiraz provides ample evidence of Ben Glaetzer's acumen as a winemaker and Australia's Barossa as the spiritual home of old vine Shiraz. Ben Glaetzer's Bishop Barossa Shiraz displays an inviting royal purple robe, bold textured flavors, and wonderful purity – a full-bodied, take-no-prisoners style of wine. Awarded multiple 90+ point ratings, including 95 points from James Halliday and the Wine Companion, the 2015 Glaetzer Bishop offers a sensual bouquet of blackberry, mulberry, violets and spice as its invocation. The wine's visual appeal is followed by enticing flavors of cassis, mulberry, plum, dark chocolate and clove. In the mouth, the 2015 Bishop offers not only beautiful fruit flavors, complex spice tones and well-integrated touches of oak; it carries this cornucopia of flavors on a bed of smooth textured tannins and a 15% alcohol level that is nearly imperceptible. Given the wine's 15% alcohol level, one would expect the 2015 Bishop to be portly, but Ben Glaetzer's 2015 Bishop is light on the palate in every way but flavor. Surprisingly easy to drink, this youthful Barossa Shiraz, which bears Ben's mother's name of Bishop, never loses its grace or charm. Moreover, its fine-grained tannins add structure and are seamlessly integrated into the wine's fruit. Enjoy this expertly crafted Shiraz now through 2030.
Next up is the exceptional and rare 2015 Domaine des Baumard Savennières. The 2015 vintage in the Loire Valley may prove to be the finest in decades. In 2015 Florent Baumard has transformed the sensual, though sometimes mercurial, Chenin Blanc varietal into a bevy of truly outstanding wines. In the case of Baumard's 2015 Savennières, we are looking at a refreshingly dry Chenin Blanc that offers the ideal tension between voluptuous fruit and bright acidity. Awarded 94 points by Wine Spectator and top billing as a Wine Spectator Smart Buy, Domaine des Baumard's 2015 Savennières should not be missed. It opens with an alluring aroma of quince, poached pear, and verbena with an underpinning of racy minerality. In the mouth the wine displays a firm structure, an overlay of creamy fruit, touches of quinine, and a long, bright mineral driven finish born of Savennières' limestone-rich soil. In its absolute infancy, this wine is already beautiful, but in true Baumard fashion the 2015 Savennières is built for the long haul and will easily improve for a decade or more.
Completing this month's Collectors Series is the 2015 Bergström Cumberland Reserve Willamette Valley Pinot Noir. A blend from some of the finest barrels from each of the estate's five vineyards, Bergström's 2015 Cumberland Reserve Willamette Valley Pinot Noir is the epitome of the Bergström style and the quintessential Oregon Pinot Noir. In 2015 Bergström's Cumberland Reserve rises to the top, providing additional evidence of Oregon's acumen for fashioning world-class wine from the world's most complex grape. Brooding, deep and dark in color, the 2015 Cumberland Reserve Pinot Noir offers up savory notes of black cherry, woodland berries, and pleasing scents of exotic spices. Although recently released and still in the throes of its youth, the 2015 Cumberland Reserve already displays a wonderfully smooth texture and mouth-feel along with a deep down collection of complex flavors. Ripe berries, exotic spices and wood smoke all make their appearance on the palate in this balanced, textured Pinot Noir that slowly unfolds in the glass for hours. Weighing in at a respectable 13.6% alcohol, the 2015 Bergström Cumberland Reserve is neither thin nor flabby, which highlights Oregon's special style of American Pinot Noir. Already delicious and nicely polished, Bergström's 2015 Cumberland Reserve Pinot Noir may be one of the finest Cumberland Reserves ever produced. Enjoy!