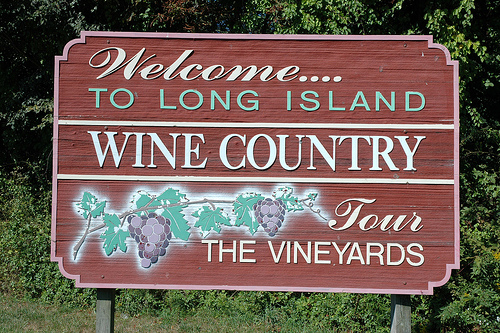 For more than forty years, Long Island has been a budding wine region and an increasingly popular source of excellent red and white wines from traditional European varietals.  With soils and a climate similar to that of Bordeaux, we should all be wondering why it took so long for anyone to plant vines there, especially on the island's North Fork, the warmest and sunniest spot in all New York State.  A better question is why has the rest of the nation been deprived of these wines, many of which are truly world class?
Although the total Long Island acreage under vines remains relatively small and densely concentrated on the island's North Fork, Long Island's 50-plus commercial wineries turn out a dizzying array of red and white wines that are snapped up by local restaurants and the hordes of summertime visitors to the Hamptons and other East End vacation spots.  Hence, the reason the rest of the country has been so long deprived of Long Island wines.
Chenin Blanc, Pinot Blanc, Sauvignon Blanc, Semillon, Riesling, Chardonnay, Gewurztraminer, Merlot, Cabernet Sauvignon, Cabernet Franc, Malbec, Syrah, and plenty of blends from a litany of varietals abound and attest to both the quality and variety of wines to be found on Long Island.  But, change is on its way.  More and more Long Island wineries have begun allocating some of their production to national markets.  The International Wine of the Month Club™ has been paying attention, and here are some Long Island wineries we suggest looking for:
Bedell Cellars: Excellent Merlot- and Bordeaux-style reds. Musée is the winery's top performer.
Castello di Borghese Vineyard and Winery: As the name suggests, these noble wines hail from Long Island's oldest winery (formerly Hargrave), which dates back to 1973.
Lieb Cellars: Sustainably farmed, award-winning Pinot Blanc and Merlot are stars.
Paumonok Vineyards: This winery produces a first-rate Chenin Blanc, along with a fine collection of other varietals.
Pellegrini Vineyards: Excellent Chardonnay, Merlot, Cabernet Franc, and Cabernet Sauvignon.
For anyone visiting New York City, why not leave the din of Manhattan behind for a day or two, drive East onto Long Island, and head to the island's North Fork where fresh air, light sea breezes, warm sunshine, and plenty of good wine awaits?
Don