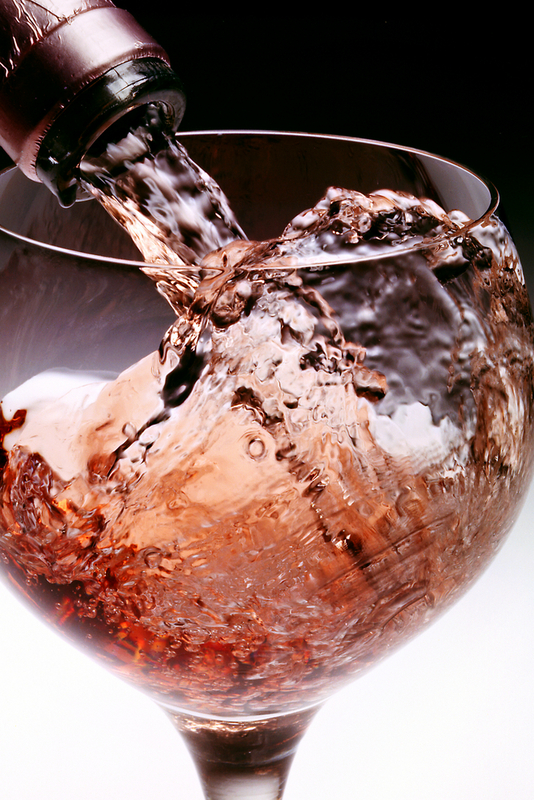 Rosé wines seem to be all the rage once again.  Gone is the stigma of the pink drink and memories of sweet, low alcohol, innocuous White Zinfandels, which weren't white and barely rosé, either.  Today's rosé wines come in all shades of pink, from a barely perceptible blush from leading Provencal rosé producers, to deeply colored concoctions made from Cabernet Sauvignon and Merlot.  Rosés can be made from any number of grape varietals, and they can range in residual sugar from bone dry to quite sweet.  Today's consumers tend to eschew sweet rosé wines in favor of dry versions, which have been popular among Europeans for generations.  In fact, the French drink more dry rosé wine today than white wine.
Methods for Making Rosé
Rosé wines can be made in several ways.  They can be made exclusively from one or more red grape varieties that spend just enough time on their skins after crushing to impart color and a bit of flavor (remembering that it is the skin of the grape that determines a wine's color, not its juice).  The longer the red varietal's skins remain in contact with the juice or must, the greater the wine's color.  When red skins are removed soon after contact, rosé rather than red wine results.  This is the most common method of producing rosé.
Rosé can also be made by adding a small amount of red wine in the form of a completely fermented wine or as unfermented juice to white wine. This practice is rarely done today, except in Champagne, where small amounts of Pinot Noir or Pinot Meunier are often added to white Champagne to create rosé Champagne.  The two then marry in the bottle as the wine undergoes secondary fermentation.
Almost any red grape variety can produce rosé.  Some of the most common grape varietals are Grenache, Syrah, Mourvèdre, Cinsault (Rhône and Southern French varietals known for producing the bone dry rosés of Provence and nearby Languedoc), Pinot Noir, Cabernet Sauvignon, Merlot and Zinfandel. Almost all wine-producing countries make some rosé wine from local or international varietals.  Garnacha (Grenache) and Tempranillo in Spain produce excellent dry rosés, as do Sangiovese and Nebbiolo in Italy.  Cabernet, Merlot, Pinot Noir, Syrah and Zinfandel based rosés predominate in California, many of which are deliciously dry.  So pick your pink pleasure, indulge yourself and enjoy!
Don