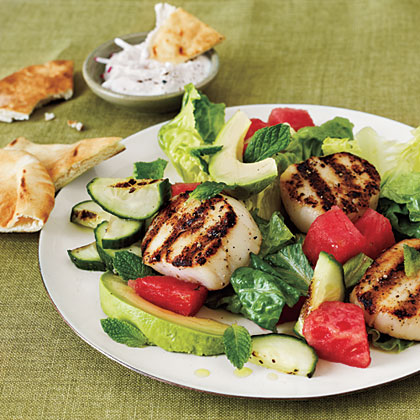 Grill scallops and cucumber for tasty toppings on this summer salad.
Yield: 4 servings
Total: 15 Minutes
Ingredients:
1/2 teaspoon freshly ground black pepper, divided
3/8 teaspoon salt, divided
12 large sea scallops (about 1 1/2 pounds)
1 English cucumber, halved lengthwise
Cooking spray
2 tablespoons fresh lime juice
2 teaspoons extra-virgin olive oil
4 cups torn romaine lettuce
3 cups (1-inch) cubed seedless watermelon
1/4 cup fresh mint leaves, torn
1/2 peeled avocado, cut into 8 slices
Preparation
1. Preheat grill to medium-high heat.
2. Sprinkle 1/4 teaspoon pepper and 1/4 teaspoon salt over scallops and cucumber. Arrange in a single layer on a grill rack coated with cooking spray. Grill 3 minutes on each side or until scallops are done and cucumber is well marked. Remove from heat; cut cucumber into 1/4-inch slices.
3. Combine remaining 1/8 teaspoon salt, juice, and oil in a large bowl; stir with a whisk. Add cucumber, lettuce, watermelon, and mint; toss gently to coat. Divide the watermelon mixture evenly among 4 plates. Top each serving with 3 scallops and 2 avocado slices. Sprinkle evenly with remaining 1/4 teaspoon freshly ground black pepper.
Sustainable Choice: All scallops, whether farmed, diver-caught, or wild-caught, are great options.
Recipe and photo from www.MyRecipes.com.