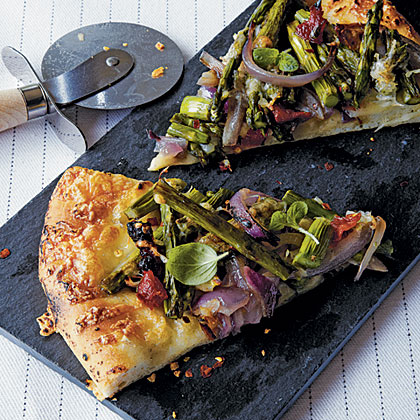 Fresh and fast, this will make an excellent first course or unique main course! Try using different seasonal vegetables for a quick meal year round! We paired ours with August's Premier selection Lungarotti Torre di Giano Umbria Bianco 2012.
"For an out-of-the-ordinary first course, offer guests a wedge of this veggie-topped pizza with smoky flavor from the grill. Start with purchased fresh pizza dough; many supermarkets now offer fresh dough in their delis or bakeries."
Ingredients
1 tablespoon extra-virgin olive oil, divided
2 cups thinly vertically sliced onion
2 cups (2-inch) slices asparagus (about 1/2 pound)
1 tablespoon thinly sliced ready-to-use sun-dried tomatoes
1/8 teaspoon salt
1 (8-ounce) portion fresh pizza dough
3/4 cup (3 ounces) shredded fontina cheese
1 1/2 teaspoons fresh oregano leaves
1/4 teaspoon freshly ground black pepper
Preparation
1. Prepare grill to medium-high heat.
2. Heat 2 teaspoons oil in a large nonstick skillet over medium-high heat. Add onion to pan; sauté 5 minutes. Reduce heat to medium-low; cook 5 minutes or until browned. Add asparagus to pan; cook 5 minutes or until asparagus is crisp-tender. Stir in tomatoes and salt.
3. Roll dough into a 12-inch circle on a lightly floured surface; brush each side of dough with 1/2 teaspoon remaining oil.
4. Place dough on a grill rack; grill 1 1/2 minutes or until crust bubbles and is well marked. Reduce grill heat to low; turn dough over.  Arrange onion mixture over crust; sprinkle evenly with cheese. Cover and grill over low heat 3 1/2 minutes or until cheese melts; remove pizza from grill. Sprinkle with oregano and black pepper.
Recipe and photo from: www.MyRecipes.com