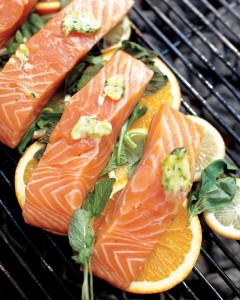 A layer of citrus slices between the fish and the grill means there's no chance of sticking, and the fish gets infused with flavor.
Everyday Food, June 2012
Ingredients
Oil
Fish
Salt and pepper
Sliced citrus
Fresh herbs (such as cilantro, basil, or mint)
Flavored butter (below)
Directions
Set up grill for indirect cooking and heat to medium-high. Clean and lightly oil hot grill. Season fish with salt and pepper. Arrange sliced citrus on cooler side of grill and top with some fresh herbs and fish; dab flavored butter on fish. Cover and cook until fish is opaque in center (no need to turn), 20 to 30 minutes.
Cook's Note
Orange-Herb Butter
Mash together 1 stick unsalted butter; 1/2 teaspoon grated orange zest; 2 teaspoons fresh orange juice; 1/4 teaspoon cayenne pepper; 1 clove garlic, minced; 2 tablespoons chopped cilantro; and 1/2 teaspoon coarse salt.
Squeeze of Flavor
Grill salmon over citrus, then serve the charred slices and more fresh wedges with the fish.
Recipe and photo from www.MarthaStewart.com