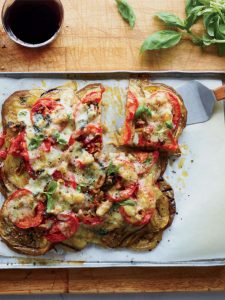 Relatively quick, this Italian favorite pairs wonderfully with August's Premier Series Estampa Fina Reserva Carmenère 2014 from Chile.
Ingredients:
1 large eggplant (1 1/2 pounds), peeled and sliced crosswise 1/4 inch thick
4 large plum tomatoes, sliced crosswise 1/4 inch thick
Extra-virgin olive oil, for brushing
Salt
1/3 cup chopped green olives
1 to 2 tablespoons chopped oil-packed Calabrian chiles or other hot chiles
1/4 cup finely shredded basil, plus whole leaves for garnish
6 ounces Fontina cheese, thinly sliced
Crusty bread, for serving
How to Make This Recipe:
Preheat the oven to 450°F and heat a grill pan. Brush the eggplant and tomato slices with olive oil and season lightly with salt. Grill the eggplant in batches over moderately high heat, turning once, until softened and lightly charred, about 4 minutes. Grill the tomatoes, turning once, until lightly charred but still intact, about 2 minutes.
In a bowl, combine the olives, chiles and shredded basil. Line a large rimmed baking sheet with parchment paper. In the center, arrange half of the eggplant in a 9-inch square, overlapping the slices slightly. Top with half of the grilled tomatoes, olive mixture and Fontina. Repeat with the remaining ingredients, ending with the cheese.
Bake in the center of the oven for about 15 minutes, until bubbling and golden. Let stand for 10 minutes. Garnish with basil leaves and serve with crusty bread.
Recipe by Grace Parisi courtesy of www.foodandwine.com