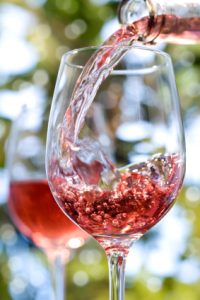 As the days warm and the blush of spring turns into the balmy days of summer, one looks for wines that will enliven the senses and quench the thirst. In this quest, one need not sacrifice flavor nor settle for insipid swill. Many excellent and affordable white and rosé wines abound to slake the thirst and tantalize the tongue.
Rosé continues to enjoy the favor of a growing legion of American wine drinkers, and that appetite shows no signs of abating. Although many of the rosé wines in the market are commercial, mass produced plonk that may temporarily quench the thirst but leave the palate wanting, it is also true that a growing number of artisan rosés from a myriad of grape varieties abound. Moreover, no longer are Grenache-based rosés from France the only game in town; numerous grape varieties and wine regions around the world have joined the rosé tidal wave and many of these newcomers are exceptional and well worth seeking out. One such rosé newbie is the superbly crafted 2020 Artesana Tannat Rosé from Uruguay. Pinot Noir rosés are increasingly in demand, too, as are superbly made sparkling wines in the form of hand-crafted rosés from Champagne, Alsace, Burgundy, and beyond. In this category, Camille Braun's NV Crémant d'Alsace Rosé stands out for its exceptional quality and value. For a traditional still rosé, one cannot beat Domaine Houchart's 2020 Côtes de Provence Rosé, a perennial overachiever.
A plethora of thirst quenching, palate pleasing white wines also await the savvy consumer this year from an assortment of grape varieties. Italy excels in this area with varieties such as Arneis, Garganega, Gavi, and Vermentino, which not only slake the thirst, they offer energy, flavor, and minerality, often with pinpoint precision. Malabaila in northern Italy's Roero DOCG fashions several exciting Arneis wines with Aia Vecchia and Surrau being two consistent producers of top notch Vermentino at prices that won't break the bank. The latter's wines hail from the island of Sardinia and the famous Gallura DOCG. For Gavi, Stefano Massone's San Cristoforo Gavi di Gavi is hard to beat as are all of Massone's Gavis. And one should not overlook the finest estate bottled Soaves, made exclusively from Garganega. Inama remains a star among a growing number of authentic Soave producers.
Although Italy offers a cornucopia of interesting, high quality white wines, it is not alone. California and Oregon have toned down the oak and now fashion a bevy of un-oaked Chardonnays, including the sprightly 2020 Donati Sisters Forever Un-Oaked Chardonnay. Meanwhile, France continues to shine with a growing array of exceptional white wines. Traditional un-oaked Chardonnays from Chablis and the Mâconnais in southern Burgundy are better than ever. Sauvignon Blanc based wines from Sancerre, Pouilly-Fumé, Menetou-Salon, and select sites along the Loire River also provide plenty of crisp, flavorful wines from a multitude of purveyors. Increasingly, Provence and the southern Rhône have joined the party, making delightful white wines with which to while away balmy summer days. The best of these are crafted dry from Clairette, Marsanne, Roussanne, Viognier, Rolle (a.k.a. Vermentino), and of course Grenache, the southern Rhône's ubiquitous varietal. Domaine Houchart fashions an outstanding crowd pleasing Côtes de Provence Blanc from traditional Provençal grape varieties. Enjoy!