If you're like us, you can't pass on buying a box (or ten) of Girl Scout Cookies on your way out of the store. While relaxing with one of your wines from your wine club, here are some pairings to help polish off some of those Girl Scout Cookies in the kitchen.
Thin Mints
Bodegas Amézola de la Mora Viña Amézola Rioja 2010
Freeman Sonoma Coast Pinot Noir 2010
Samoas®/Caramel deLites™
Cambridge Cellars Limited Central Coast Cabernet Sauvignon 2013
Losada Vinos de Finca Altos de Losada Bierzo Mencia 2009
Tagalongs®/Peanut Butter Patties®
Bellingham Ancient Earth Pinotage Shiraz 2013
Château du Trignon Viognier Côtes-du-Rhône Blanc 2013
Trefoils/Shortbread
Château Andréa Graves 2013
Stefano Massone Vigneto Masera Gavi 2013
Do-Si-Dos™/Peanut Butter Sandwich
Revello Barolo 2010
Cambridge Cellars Limited Monterey Chardonnay 2013
Thanks-A-Lot™
Podere Il Palazzino Bertinga Toscana IGT 2008
Château Ducasse Graves 2010
Lemonades
Magenta Cuvée Supérieure Brut Champagne N.V.
Château de Pizay Morgon 2013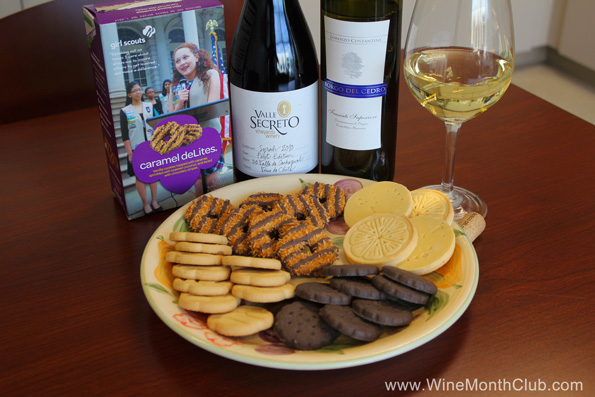 Also check out our 2014 Girl Scout Cookie Pairings!