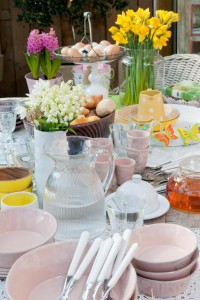 Brunch is my favorite meal, because there are so many choices in foods and wines. We always think of Champagne to pair with our Easter Brunch meal.
So the question is; Rose Champagne, Brut Champagne or Sparkling Wine? Rose Champagne and sparkling wine is one of the number one wines to pair with breakfast foods, both "demi-sec", which means slightly sweet, or "brut", which means dry.
Lobster, shrimp, bacon and bagels with lox are just a few of the many foods that pair very well with the pink bubbles.
Waffles, crepes, pancakes, cheese, fruit and other slightly sweet brunch foods pairs well with the demi-sec Champagnes.
Egg dishes like poached eggs, scrambled eggs, omelets, frittata and eggs Benedict would pair well with a French bubbly called Cremant de Alsace, this bubbly comes from Alsace in France, near the German border. It is made with Chardonnay & Pinot Noir (Pinot Blanc grapes). Or you can use a more budget friendly Sparkling Wine will pair very nicely.
Let's not forget dessert; pastries, roasted pears, warm apple pie, cheese cake, cobblers, custards, strudels and French toast drizzled in syrup and whipped cream. I think of Moscato di Asti or an Iced Wine a German wine Eiswein. Drizzle the Iced Wine on vanilla ice cream or skip the syrup and use on the French Toast.
The options are endless that is why I love brunch with wine. What type of foods and wine do you have on your Easter table?