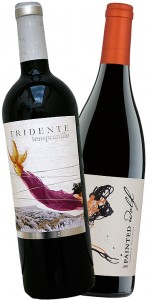 July offers an especially fine summer line-up that spans three continents.  For starters, Tridente's 2009 Tempranillo from Spain garners my first Top Pick.  It's a smooth, full-bodied, crowd pleasing red wine that works equally well at a barbecue as it does at an elegant dinner party, which is no doubt why it has earned many 90 plus point ratings.  Moreover, it makes many more expensive Tempranillo wines from Ribera del Duero look like simpletons.
My next Top Pick is a tough one.  Why?  Painted Wolf's 2010 Guillermo Pinotage from South Africa is an outstanding Pinotage that has earned all the high praise it's received.  And most importantly, it drinks great.  Pinotage isn't very well known or represented in the United States, but Painted Wolf's Guillermo Pinotage could change that.  Yet, Yali's 2012 Sauvignon Blanc from Chile's Lolol Valley captures the essence of Sauvignon Blanc with the just the right balance between fruit, acidity, and minerality.  Besides, I'm a sucker for Sauvignon Blanc, especially in summer. And then there's Domaine Wachau's 2011 Federspiel Terrassen Riesling, another wonderful effort.  Domaine Wachau has a penchant for producing exceptional Austrian Riesling and Gruner Veltliner and their 2011 Federspiel Riesling may be the finest of its type to date.
So, what's this month's Second Top Pick?  As much as I love Sauvignon Blanc and I could easily pull the trigger on the Yali, and Domaine Wachau's Riesling is a real winner, I have to go with Painted Wolf's Guillermo Pinotage as my second Top Pick, simply because Pinotage is a hard wine to make and no other Pinotage we've tasted on this side of the Atlantic can beat it.  A votre santé.
Salud!
Don