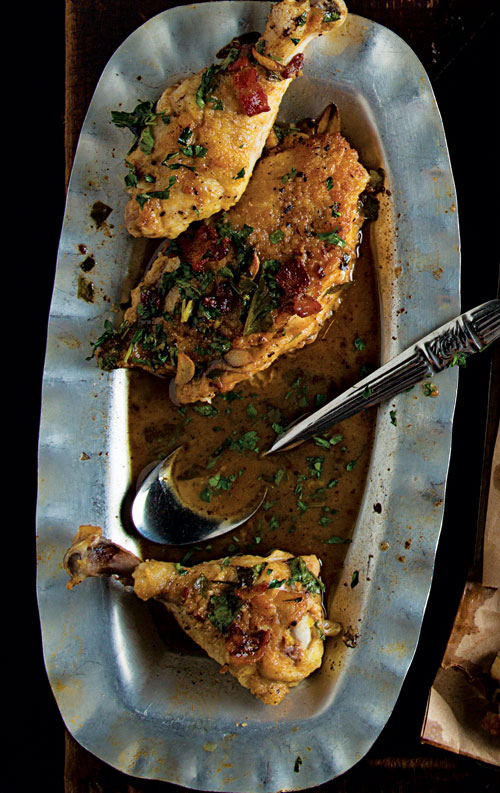 Caramelized garlic and dry sherry make a luscious sauce for this simple but delectable braised chicken dish.
SERVES 4
INGREDIENTS
½ cup flour
1 (3-lb.) whole chicken, cut into 8 pieces
Kosher salt and freshly ground black pepper, to taste
2 slices bacon, roughly chopped
3 tbsp. olive oil
5 cloves garlic, thinly sliced
1 cup chicken stock
½ cup dry sherry
2 tbsp. roughly chopped parsley
2 tbsp. unsalted butter, cut into ¼" cubes
Country bread, for serving
INSTRUCTIONS
1. Heat oven to 350°. Place flour in a bowl; set aside. Season chicken with salt and pepper, and dredge in flour; set aside. Heat bacon in a 12″ ovenproof skillet over medium-high heat, and cook, stirring, until its fat renders, about 4 minutes. Using a slotted spoon, transfer bacon to a bowl; set aside. Add oil to skillet, and working in 2 batches, add chicken, and cook, turning once, until browned on both sides, about 12 minutes. Transfer to a plate and set aside.
2. Add garlic to the skillet, and cook, stirring, until golden brown, about 2 minutes. Add stock and sherry, and return chicken to the skillet, skin-side up; sprinkle with reserved bacon along with parsley, and then dot with butter. Transfer skillet to oven, and cook, basting twice during cooking, until chicken is cooked through and tender, about 40 minutes; serve with country bread.
Recipe and photo from: www.Saveur.com