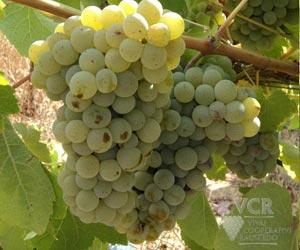 Located in the north-central part of Portugal, Dão is surrounded on all sides by mountains which shelter this ancient viticultural region from severe weather and provide ideal conditions for the cultivation of Portugal's excellent, though mostly unsung, indigenous grape varietals. The region's high altitude vineyards grow on granite and schist soils up to nearly 3,500 feet. Dão's high altitude makes for cool nights, slow ripening, and the propensity to produce highly aromatic wines of superior elegance and longevity, attributes which has earned Dão the moniker The Tuscany of Portugal.
Dão produces both red and white wines. The region's signature white grape is Encruzado, a grape renowned for producing tasty white wines in a myriad of styles, ranging from fresh, light, and supremely elegant white wines to crunchy, complex, barrel-aged versions. Although it is increasingly bottled on its own as a varietal, Encruzado still finds its way into traditional blends with Malvasia Fina, Bical, Cercial, Rabo de Ovela, Verdelho, or other indigenous Portuguese varietals. The region's finest red grape variety is Touriga Nacional, which stars as the most important grape variety in Port, the Douro, and in the finest wines of Dão. Tinta Roriz (also known as Aragonez or Tempranillo), Jaen, Baga, Bastardo and Tinta Pinheira also figure prominently in the production of red Dão, which most often is a blend of grapes.
Traditionally, Dão was known for elegant medium-bodied red wines, but today Dão is proving to be equally adept at fashioning easy-to-drink, everyday reds as well as deep, sophisticated, age-worthy red wines. Fresh white wines of considerable distinction also emanate from Dão. Now is the time to imbibe in the fine wines of Dão from such excellent producers of both red and white Dão as Taboadella, Quinta dos Roques, and Luis Patos, among others.