Ingredients: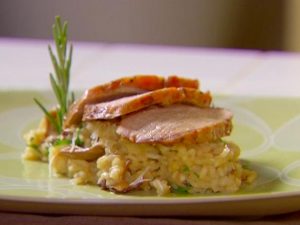 Pork Tenderloin:
1 (1 1/2 to 2-pound) pork tenderloin
Olive oil
Salt
Freshly ground pepper
1 or 2 sprigs fresh rosemary leaves, finely chopped, plus a few sprigs for garnish
Risotto:
1-ounce dried mushrooms
1 cup boiling water
3 tablespoons olive oil
1 shallot, minced
1 cup Arborio rice
1 cup chicken stock, heated
1/2 cup dry white wine
Few pinches salt
2 tablespoons butter
1/2 cup grated pecorino romano
2 tablespoons chopped fresh parsley leaves
Directions:
Tenderloin:
Rub tenderloin with oil, salt, pepper, and rosemary. Cover with plastic wrap and let marinate for an hour or two in the refrigerator.
Preheat oven to 375 degrees F.
Heat a couple tablespoons of olive oil in an oven-safe saute pan over high heat. Sear tenderloin on all sides until nicely colored all over. Transfer pan to oven and roast for 10 minutes or until internal temperature reaches 145 degrees F. Let rest for 5 to 10 minutes before thinly slicing on the bias. Serve with the risotto and garnish with a sprig of fresh rosemary.
Risotto:
Place mushrooms in a bowl and pour boiling water over them; cover and let sit 10 minutes.
Heat the oil in a large saucepan over medium heat. Add shallots and sweat until they start to turn translucent in color, just a couple minutes. Add rice and stir around until all the grains are covered with oil. To the rice, add the stock and wine. Remove the mushrooms from their liquid, reserving the liquid, and chop them roughly. Add the mushrooms with their liquid to the pot. Add salt, raise heat to medium-high, and bring to a simmer. Stir well, reduce heat to low, cover, and cook for 20 minutes, stirring once more after 10 minutes. Remove from heat and stir in the butter, pecorino, and parsley. Serve with sliced tenderloin.
Recipe by Dave Lieberman courtesy of www.foodnetwork.com.