A great, super simple, and fast Friday night dinner!
Serves: 4 servings
Ingredients: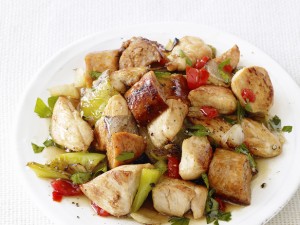 2 tablespoons unsalted butter
3/4 pound sweet or hot Italian sausage, cut into chunks
3/4 pound skinless, boneless chicken breasts, cut into chunks
Kosher salt and freshly ground pepper
1 tablespoon all-purpose flour
1 small onion, chopped
2 Italian green frying peppers, cut into 1-inch pieces
3 cloves garlic, roughly chopped
1/2 cup dry white wine
3/4 cup low-sodium chicken broth
1/4 cup roughly chopped fresh parsley
2 jarred pickled cherry peppers, chopped, plus 2 tablespoons liquid from the jar
Directions:
Heat 1 tablespoon butter in a large skillet over medium-high heat. Cook the sausage until golden, about 2 minutes. Season the chicken with salt and pepper, then toss with the flour in a bowl; add to the skillet and cook until browned but not cooked through, about 3 minutes.
Add the onion, peppers, garlic, 1/2 teaspoon salt, and pepper to taste and cook 3 minutes. Add the wine, scraping up any browned bits; bring to a boil and cook until slightly reduced, about 1 minute. Add the broth and bring to a gentle simmer. Cover and cook until the sausage and chicken are cooked through, about 5 minutes.
Transfer the chicken, sausage and vegetables to a platter with a slotted spoon. Increase the heat to high and stir the parsley and cherry peppers and their liquid into the skillet; boil until reduced by one-third, 2 to 3 minutes. Remove from the heat and stir in the remaining 1 tablespoon butter. Pour the sauce over the chicken mixture.
Per serving: Calories 335; Fat 14 g (Saturated 7 g); Cholesterol 95 mg; Sodium 891 mg; Carbohydrate 10 g; Fiber 2 g; Protein 36 g
Recipe courtesy of Food Network Magazine.