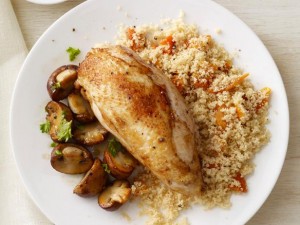 Fall is here and this simple and quick dish featuring mushrooms, chicken, and couscous with apricots will please everyone in your family and guests alike!  Pair it with a full white wine, such as, our Premier Series wine Bodega Huguet Can Feixes Penedès Blanc Selecció.
Ingredients:
1 1/2 pounds cremini mushrooms, halved
3 tablespoons extra-virgin olive oil
4 cloves garlic, smashed
1/2 teaspoon ground cumin
1/2 teaspoon ground cinnamon
Kosher salt and freshly ground pepper
4 skin-on, bone-in chicken breasts (2 to 2 1/2 pounds)
1 cup whole-wheat or regular couscous
1/3 cup chopped dried apricots
1 tablespoon fresh lemon juice
1/4 cup chopped fresh cilantro or dill
Plain yogurt, for serving (optional)
Directions:
Preheat the oven to 400 degrees F. Toss the mushrooms, 2 tablespoons olive oil, the garlic, cumin, cinnamon, 1/2 teaspoon salt, and pepper to taste on a rimmed baking sheet.
Rub the chicken breasts with the remaining 1 tablespoon olive oil and season with salt and pepper. Arrange the chicken skin-side up among the mushrooms. Roast until the chicken skin is crisp and golden and a thermometer inserted into the thickest part registers 165 degrees F, 25 to 30 minutes.
Meanwhile, cook the couscous with the chopped apricots as the package directs. Season with salt and pepper.
Transfer the chicken to plates. Toss the mushrooms with the lemon juice, cilantro or dill, and salt and pepper to taste. Serve the chicken with the mushrooms, couscous and yogurt.
Recipe courtesy of Food Network Kitchen from www.foodnetwork.com