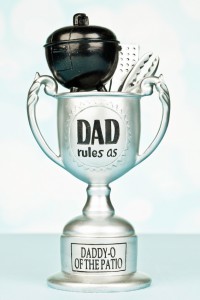 Nothing goes more hand in hand than grilled steak and a nice glass of red wine, so forget the necktie this year and give him something that is sure to bring a smile to his face this Father's Day.  Let him kick off his shoes, relax, and treat him to this delicious Grilled Skirt Steak recipe we found from WineSpectacular.com.  Skirt Steak is an excellent choice for grilling because not only does it cook quickly, but it's packed with flavor, and therefore requires no marinade.  In addition, the salsa's toasty, briny, and very gently sweet and acidic components will pair perfectly with our featured red wine this month, Black Pearl Vineyards Paarl Shiraz 2008.  Be sure to check back next week to find out why Don was blown away by this wine!  The best part about everything is that it all comes together in just under five minutes.  Add some potatoes and a romaine salad, with dressing of choice, and you've got a meal truly fit for a king!
Grilled Skirt Steak with Sun-Dried Tomato & Almond Salsa
For the salsa:
1/2 cup almonds, toasted and finely chopped
1/4 cup oil-cured black olives. finely chopped
1 medium shallot, peeled and finely chopped
1 tablespoon flat-leaf parsley, finely chopped
2/3 cup oil-packed sun-dried tomatoes, drained and finely chopped
2 tablespoons best-quality red wine vinegar
1/3 cup extra-virgin olive oil
Kosher salt and freshly ground black pepper to taste
At least 1 hour before cooking the steak, combine all the ingredients in a non-reactive bowl and stir well to combine.  If making several hours before cooking steak, cover and refrigerate.  Adjust seasoning and bring to room temperature before serving.  Makes about 1 1/2 cup.  Happy Father's Day!