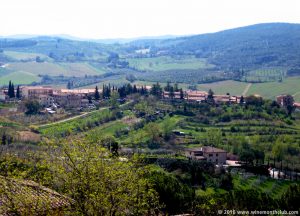 Carmignano is one of the oldest wine regions of Tuscany. The Etruscans and Romans tended vines in what is now Carmignano. Although this diminutive DOCG is lesser known today than its Tuscan siblings, Brunello di Montalcino, Vino Nobile di Montepulciano, and Chianti Classico, Carmignano has consistently fashioned distinctive red wines of exceptional quality from a mere 270 acres. Written records of Carmignano's distinctive wines date back to the middle of the 14th century, where documents as early as 1369 illustrate the importance of this small, but illustrious wine region. In fact, for centuries Carmignano was so highly regarded that written accounts attest to Carmignano selling for four times the cost of any other wine.
Throughout the centuries Carmignano has enjoyed a preferred status, becoming a favorite of dukes and popes. The Medicis introduced French varietals to Carmignano in the 1500s and in the early 1700s the Grand Duke Cosimo III de' Medici established the area of Carmignano as a nursery for grape varieties, which included the planting of international varietals such as Cabernet Sauvignon that he had imported from France. Cosimo III also issued a decree controlling Carmignano's production standards and sales, a precursor to today's strict DOCG regulation. His decree is believed to be the first modern denomination of controlled origin for wine in the world. Moreover, the boundaries for Carmignano have remained the same to this day, making it also one of the smallest Italian DOCG areas.
Carmignano was awarded its own DOC in 1975, thanks to the efforts of Count Ugo Contini Bonacossi, and received its much coveted DOCG status in 1990. Given the region's centuries old tradition of growing Cabernet Sauvignon and Cabernet Franc (centuries before the creation of Super Tuscan reds throughout the rest of Tuscany), Bordeaux varietals have long played an important role in the highly prized wines of Carmignano. Other permitted varietals include Sangiovese (which must constitute at least 50% of the blend), Canaiolo Nero, Mammolo, Merlot, Colorino, Syrah and two traditional Tuscan white varieties, Trebbiano and Malvasia. However, the zone's white varietals rarely find their way any longer into Carmignano. Taste and see why Carmignano has been highly prized for centuries.