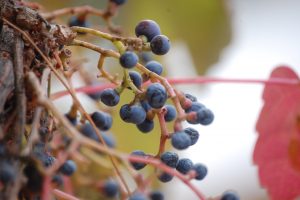 Carmenère is Chile's emblematic grape variety, yet it rarely receives the recognition it deserves. Of all South American wines, Carmenère clearly stands out as the most distinctive and enjoyable, especially when consumed in the first five years of life, which is when the vast majority of all wines are consumed. Even more impressive, well-made Carmenères age gracefully to perfection for up to a decade or more in bottle. Increasingly, critics and writers sing the praises of Carmenère, especially from top producers such as Casa Silva, Casas del Bosque, Carmen, and Errazuriz, and everytime I serve a Carmenère at a tasting or share it with friends, it's a hit with red wine drinkers, both young and old. When asked why they don't drink more Carmenère, the usual retorts still sound something like these: "I didn't know what it was" or "I never had one before, so I was afraid to try it." Adam should have exercised a bit more caution when handed the apple, but when it comes to wine, let's be a little more adventuresome, even audacious!
So why hasn't Carmenère taken the wine world by storm? For one, Carmenère is close to being the missing link of Bordeaux varietals, and it has only been since the 1980's that DNA testing ascertained that Chile's distinctive red grape is indeed Carmenère. Carmenère's origins go back many centuries, and it is still one of the six legal red Bordeaux grape varietals for Classified Bordeaux. Carmenère, like Malbec, figured prominently in Bordeaux until the advent of phylloxera in the 19th century. However, post phylloxera, the prolific, earlier ripening Merlot became Bordeaux's dominant varietal followed by Cabernet Sauvignon and Cabernet Franc. Brought to Chile in the 19th century before the dreaded vine disease, phylloxera, Carmenère was mistaken for a clone of Merlot until the 1980s. This surely accounts for Carmenère languishing for so long in relative obscurity, though it's hard to believe that one of Bordeaux's six legal red grape varietals could be misidentified for so long, but then the truth is nearly always stranger than fiction. Political and economic instability in Chile until the 1990's is another reason Carmenère is a relative late comer to our shores. Lastly, some of the first Carmenère wines sent to the US were under-ripe and not at all indicative of what this premium grape is capable of being.
So, what does Carmenère have going for it? Plenty! Let's start with Carmenère's deep purple color, followed by a hedonistic aroma: savory red and black fruit flavors, deft touches of bell pepper, black pepper, dark chocolate, coffee and spice. But best of all, Carmenère's tannins are smoother than those of Cabernet and its other Bordeaux compatriots. Most of all, people enjoy it, especially after it's had a few minutes to breathe. The only caveat with Carmenère is this: never judge a Carmenère on first sip. Any good Carmenère needs at least a few minutes of aeration to undergo metamorphosis and blossom in the glass. Yet, one doesn't have to wait years to enjoy this varietal. Just allow Carmenère a little time in the glass to collect itself, and enjoy!