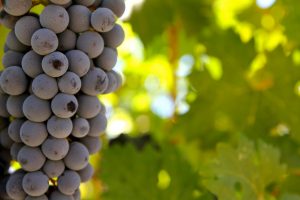 Cabernet Sauvignon is the most widely cultivated wine grape on the planet. While Cabernet Sauvignon's preeminence underscores consumers insatiable thirst for the grape and the dark red wine that it yields, Cabernet Sauvignon is a relative newcomer among the world's wine grape varieties and its immense popularity is of recent origin. Although Cabernet Sauvignon was thought to be an ancient varietal, DNA studies conducted in the 1990s revealed that Cabernet Sauvignon is not nearly as old as was once thought. In fact, it has only been around since the 17th century. Moreover, what is even more startling is that Cabernet Sauvignon is actually the offspring of Cabernet Franc (a red variety) and Sauvignon Blanc (a white variety).
The origin of Cabernet Sauvignon is now widely acknowledged to be southwest France in the environs of Bordeaux, where it holds court with Merlot, Cabernet Franc, Malbec, Petit Verdot, and in rare instances Carmenère. The combination of any three or more of these varieties is what is known in Europe as the Bordeaux Blend or in California and elsewhere as a Meritage selection. Some researchers now suggest that northern Spain, just south of the Pyrenees, may one day also lay a legitimate claim as to an original site of the planet's most important red grape variety. However, Bordeaux rightly claims to be the disseminator of this noble red grape because from Bordeaux, Cabernet Sauvignon has traveled the world far and wide.
In Bordeaux, Cabernet Sauvignon is the heart and soul of the finest Médoc wines and a leading player in nearly all of the finest red wines of Graves. Châteaux Haut-Brion, Margaux, Latour, and Lafite are all Cabernet Sauvignon based wines. However, even in Bordeaux appellations where Cabernet is King, it is usually blended with Merlot and/or other traditional Bordeaux varietals. By nature, Cabernet Sauvignon is a thick skinned grape that requires a longer maturation than most red grape varieties, which makes blending it a natural choice in winemaking regions such as Bordeaux where climate conditions are variable.
In general, Cabernet Sauvignon thrives under warm, even hot, semi arid conditions, which is one reason why this noble variety has been extensively and successfully cultivated in Argentina, Australia, California, Chile, South Africa, Spain and elsewhere. In particular, Cabernet Sauvignon enjoys a privileged place in American viticulture, and it is unquestionably California's most prestigious red varietal, both in consummate quality as well as price. California's Napa Valley and surrounding counties are generally acknowledged to produce the New World's finest varietal Cabernet Sauvignons. However, Argentina, Australia, Chile, Italy, South Africa, and Spain, among others, also fashion world-class Cabernet Sauvignon, and often their wines offer greater quality and value.
In flavor profile, Cabernet Sauvignon can vary considerably, depending upon climate and terroir. However, blackberry and blackcurrant (often referred to as cassis) flavors are most often associated with this premium variety. Earthy and herbaceous aromas, cedar, eucalyptus, graphite, and tobacco are also common. Moreover, of all the world's red grape varieties, Cabernet Sauvignon has the greatest propensity for successful ageing. Cabernet Sauvignon also contains high amounts of antioxidants and resveratrol, which make its wines some of the most healthful on the planet as well as the most widely enjoyed.