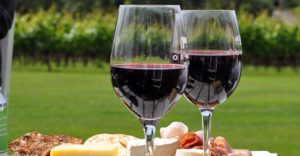 Bordeaux, meaning beside the waters, is the world's largest fine wine producing region, encompassing nearly 300,000 acres, 60 individual appellations, and more than 7,300 châteaux. Appellations such as Margaux, Pauillac, St. Émilion, and Pomerol are legendary, as are scores of collectible, age worthy wines that flow from the tiny, lesser known appellation of Lalande-de-Pomerol, which has somehow remained Bordeaux's best kept secret despite a spate of exceptional vintages and a bevy of châteaux with meticulously tended vines.
Lalande-de-Pomerol is a picturesque satellite commune of Pomerol of approximately 2,500 acres of vines that sits just to the north of Pomerol and the sprawling appellation of Saint-Émilion. Lalande-de-Pomerol is comprised of two main villages, Néac and Lalande-de-Pomerol, both of which produce very good red wines. However, while the village of Lalande-de-Pomerol lends its name to the entire appellation and was an important stop on Europe's most celebrated pilgrimage route to Santiago de Compostella, complete with a 12th century stone church constructed by the Knights of Saint John and a hospital, it is Néac that produces the appellation's finest wines from Merlot and Cabernet Franc vines grown on a mixture of gravel and clay soils that extend from the Pomerol plateau. Small amounts of Cabernet Sauvignon make their appearance as well. By appellation regulation only red wine can be produced in Lalande-de-Pomerol, and what beautiful red wines they are. Ripe, plump, and silky smooth, the finest wines of Lalande-de-Pomerol drink well young, and yet often age gracefully to perfection for 20 years or more.
Lalande-de-Pomerol châteaux that consistently fashion outstanding wine include Château des Annereaux, Château Tournefeuille, and Château Siaurac, to name a few.