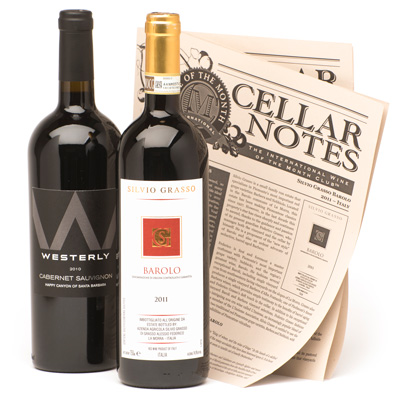 For quite some time we've had members ask us for a club that features bold, red wines and we are happy to announce that it is finally here! Our two-tiered tasting panel will be looking for medium- to full-bodied wines with superb structure, pronounced ripe tannins, deep fruit flavors, and well-integrated oak tones from barrel aging.
Examples of bold red wines members of the club will receive include highly acclaimed Cabernets, Malbec blends and Carmenères from South America, single-vineyard red Zinfandels, full-bodied California Cabernets, Spanish Priorats and Ribera del Dueros, and Châteauneuf-du-Papes from the Rhône Valley.
Don Lahey, Director of Product Development, has selected two outstanding wines for the inaugural selections. "The panel came across the 2012 Terrer d'Aubert D.O. Tarragona Cabernet Sauvignon earlier in the year and we all felt it was a perfect fit and well deserving of its 92-point Wine Spectator review. We found its savory fruit flavors mingled with hints of chocolate, tobacco, and complex earth tones and plenty of ripe toasty tannins. Our second selection, the 2014 Centonze Nero d'Avola Sicilia, is a relative newcomer to the American market and a winery we have had our eye on for some time. We found it clean, fleshy, and full-bodied, offering dark cherry and currant flavors, powerful tannic notes, and appealing spice and fruit flavors. We're pretty pleased with our first month's selections."
To order or to learn more about this exciting new club, visit: The Bold Reds Wine Club page.