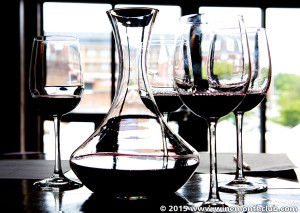 Beaujolais remains one of France's classic and most endearing wines, although its reputation has been maligned by the ocean of Beaujolais Nouveau that began inundating our shores each November a generation ago. Authentic, classic Beaujolais bears little resemblance to Nouveau, and it has never been better. Will the real Beaujolais please stand up?
Situated in the extreme south of Burgundy, Beaujolais is a vast region of nearly two hundred villages and communes, which are spread out on varying subsoils consisting of many individual terroirs. Unofficially, Beaujolais forms the dividing line between northern and southern France. Straddling the un-specified equivalent of the American Mason-Dixon Line, authentic Beaujolais flows in copious quantities north to Paris and south to Lyon and beyond to the delight of millions.
The Gamay Grape
In spite of inherent variations in style and quality, which reflect the differences in soil composition, altitude, and level of production among the region's thousands of growers, one common denominator comes to fore in Beaujolais – the Gamay grape. Gamay provides the defining character and flavor of Beaujolais, and nowhere is this more the case than in the 10 cru villages of Beaujolais – the source of the finest wines of the region. Although wines bearing a Beaujolais or Beaujolais-Villages AOC can provide very pleasant drinking, the ten cru villages comprise the heart of Beaujolais and offer the consumer the finest Gamay wines in the world. In addition, each of these ten townships possesses a special terroir and an individual set of characteristics, which make for memorable drinking. These 10 cru villages of Beaujolais are Brouilly, Côte de Brouilly, Chiroubles, St. Amour, Fleurie, Regnie, Chenas, Morgon, Julienas, and Moulin-à-Vent. Although each cru has its merits and particular attributes, Morgon, Julienas, and Moulin-à-Vent are widely acknowledged to be the finest, fullest and most Burgundy-like of the wines of Beaujolais, and they enjoy an enviable reputation for ageing up to five years or more in bottle with excellent results. Some reliable producers of superb cru Beaujolais include Château de Pizay, Château de Saint Lager, Daniel Bouland, Georges Descombes, and Mathieu Lapierre. Like all Beaujolais, cru Beaujolais is best consumed cool or even slightly chilled in the company of good home cooking. Enjoy!