This recipe is quick, light, and perfect for spring! Pair it with something similar like a pinot blanc, such as, Camille Braun Cuvée Marguerite-Anne Pinot Blanc 2014 from our Premier Wine Series Club!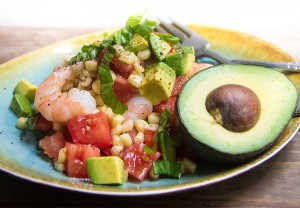 INGREDIENTS:
6 ears corn, husked
3 Tbsp. olive oil
1 tomato, cubed
1 lb. ready to eat shrimp, tails removed
1 medium California Avocado, cubed
1/2 cup fresh basil leaves, chiffonade
3 Tbsp. fresh lime juice
As needed Kosher salt & freshly ground pepper, to taste
INSTRUCTIONS:
Fire up the grill to a medium hot temperature. Rub corn with 1 tablespoon oil. Grill, turning frequently, until corn is charred and heated through, 10-12 minutes. Remove from grill. When cool, slice kernels from the cob and transfer into a large bowl. Can use boiled or microwaved corn, but please don't. The grilled corn with the olive oil MAKES this dish.  Mix remaining 2 tablespoons oil, tomatoes, basil and lime juice into corn. Add shrimp and diced avocado. Toss lightly, ensuring that the avocado dices stay intact. Season to taste with salt, pepper, and more lime juice, if desired.
Recipe and photo from: www.californiaavocado.com