This is a delicious autumn meal with crisp apples, pan roasted chicken, and a savory white wine gravy! Try serving it with mashed potatoes or rice pilaf and pairing it with a dry white wine, such as, Tavignano "Villa Torre" Verdicchio dei Castelli di Jesi Classico Superiore 2012 which we featured in our Premier Series last month.
Prep Time: 15 Minutes
Cook Time: 25 Minutes
Ready In: 40 Minutes
Servings: 4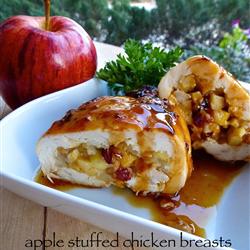 INGREDIENTS:
2 skinless, boneless chicken breasts
1/2 cup chopped apple (Golden Delicious, Granny Smith, Newtown Pippin, Rome Beauty and/or Winesap apples may be used.)
2 tablespoons shredded Cheddar cheese
1 tablespoon Italian-style dried bread crumbs
1 tablespoon butter
1/4 cup dry white wine
1/4 cup water
1 tablespoon water
1 1/2 teaspoons cornstarch
1 tablespoon chopped fresh parsley, for garnish
DIRECTIONS:
1. Combine apple, cheese, and bread crumbs. Set aside.
2. Flatten chicken breasts between sheets of waxed paper to 1/4 inch thickness. Divide apple mixture between chicken breasts, and roll up each breast. Secure with toothpicks.
3. Melt butter or margarine in a 7 inch skillet over medium heat. Brown stuffed chicken breasts. Add wine and 1/4 cup water. Cover. Simmer for 15 to 20 minutes, or until chicken is no longer pink.
4. Transfer chicken to a serving platter. Combine 1 tablespoon water and cornstarch; stir into juices in pan. Cook and stir until thickened. Pour gravy over chicken, and garnish with parsley. Serve.
Recipe and photo from www.AllRecipes.com