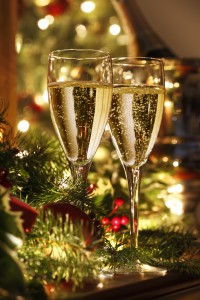 Some of you have seen this blog post before, but a number of members asked me to repeat it. I think it is as true this year as it was last year, and for generations before that, so here it goes.
Conventional thinking tends to relegate Champagne and other fine sparkling wines to special occasions, late night parties, and New Year's Eve.  To that I say "humbug." Champagne is a wine for all seasons, and since every day ought to be a celebration, why not pour yourself a glass of Champagne on a cold, rainy day as well as a warm, sunny day?  Why limit the pleasure of good bubbly to a few occasions or just one time of year?  Furthermore, good sparkling wine, and Champagne in particular, cheers the heart as well as the palate.  Personally, I like Champagne at all times of the year, and I especially enjoy it as an aperitif and a prelude to a fun evening.  It cleanses the palate and enlivens the soul.  I believe it was Winston Churchill who once remarked, "In the time left to us between the disaster and the catastrophe, there is time for a glass of Champagne." To that I will pop a few corks and add Amen!
And after the Champagne, I will open up the best mature white and red wines from my cellar and give thanks for the Holidays and all those who have made my lot in life possible.  Cheers!  All the best to everyone in life and the New Year!
Don