Have You Ever Been Wine Tasting on a Bike?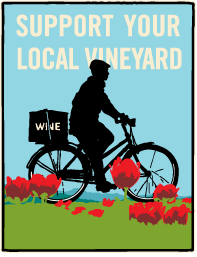 A great area to go wine tasting on a bike is in the Willamette Valley area in Oregon.  There are over 150 wineries to choose from and you can visit at least four in 5 miles.  The tasting fees are lower priced than Napa or Sonoma,  most are around the $10.00 range.  Many of the wineries donate a portion of the tasting fees to Ecotrust's Farm to School Programs to help the local schools and farmers.
All the wineries are open for Memorial weekend, many with special BBQ events, music, barrel sampling, and specialty food pairings.  Good weekend to visit some of the region's small, family-owned wineries rarely open to the public as well as larger wineries and tasting rooms.
Posted in Wine Regions