Great White Wines That Hardly Anyone Knows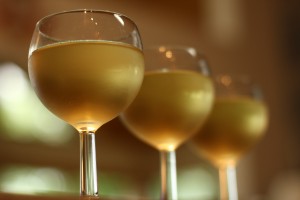 Chardonnay, Sauvignon Blanc, Chardonnay and Sauvignon Blanc, and then there's more Chardonnay and Sauvignon Blanc.  And yeah, there's the occasional Riesling or Viognier to take a break from Chardonnay and Sauvignon Blanc.  But isn't there more to fine white wine than the hegemony of the usual triumvirate?  And what are some other great white wines?  The world's full of fine white wines that don't receive the attention they deserve.  For starters, how about Falanghina?  Don't try to pronounce it.  Even in Italian, the name Falanghina (an indigenous grape variety of Italy's Campania) doesn't exactly roll off the tongue.  Bright, fruity, soft, seductive, yet dry and refreshing, a growing number of first class Campanian producers are sending Falanghina our way.  Try it!  The same can be said for Greco and Fiano di Avellino, two super premium grape varieties from Italy's alluring Amalfi Coast.
Greco and Fiano di Avellino are truly beautiful white wines that drink well alone and with food, especially seafood.  Verdicchio is another crowd pleasing white wine from Italy that is now better than ever.  Gruner Veltliner, Austria's iconic white grape variety, also deserves to be better known.  It makes a wonderful aperitif, and it pairs beautifully with Asian and Fusion cuisines.  Gewurztraminer is another unsung hero.  It's one of the few white wines that can hold up to heat and heady Asian stir fries as well as rich pâtés and smoked meats.  Gewurztraminer is never outclassed by the food, and it can be enjoyed as an aperitif or in place of dessert.  And these grapes are just a few of the great white varietals that abound.  So, why not really step outside of the Chardonnay/Sauvignon box?
A votre santé
Don Lahey
Posted in Interesting Wine Info, Notes from the Panel, Wine Education, Wine Regions