Girl Scout Cookies and Wine Pairings
The official Girl Scout Cookie Day is February 8th!
If you're like us, you can't pass on buying a box (or ten) of Girl Scout Cookies on your way out of the store. While relaxing with one of your wines from your wine club, here are some pairings to help polish off some of those Girl Scout Cookies in the kitchen.
Thin Mints
Valle Las Nencias Mendoza Reserve Blend 2011
Cornerstone Stepping Stone North Coast Rocks! Red 2011
Samoas®/Caramel deLites™
Malabaila di Canale Roero Arneis Pradvaj DOCG 2011
Casa Silva Microterroir Los Lingues Carmenère 2005
Tagalongs®/Peanut Butter Patties®
Black Pearl Vineyards Mischief Maker Paarl Shiraz 2010
Cornerstone Stepping Stone North Coast Rocks! White 2011
Trefoils/Shortbread
Emile Beyer Tradition Pinot Blanc d'Alsace 2012
Downes Family Vineyards Elgin Valley Semillon 2012
Do-Si-Dos™/Peanut Butter Sandwich
Casa Silva Microterroir Los Lingues Carmenère 2005
Cornerstone Stepping Stone Napa Valley Cabernet Franc 2010
Thanks-A-Lot™
Château Sainte Eulalie Plaisir d'Eulalie Minervois 2012
Cornerstone Stepping Stone Napa Valley Cabernet Franc 2010
Lemonades
Domaine Marc Colin Saint-Aubin La Fontenotte 2011
Château Sainte-Eulalie La Cantilène Minervois La Livinière 2010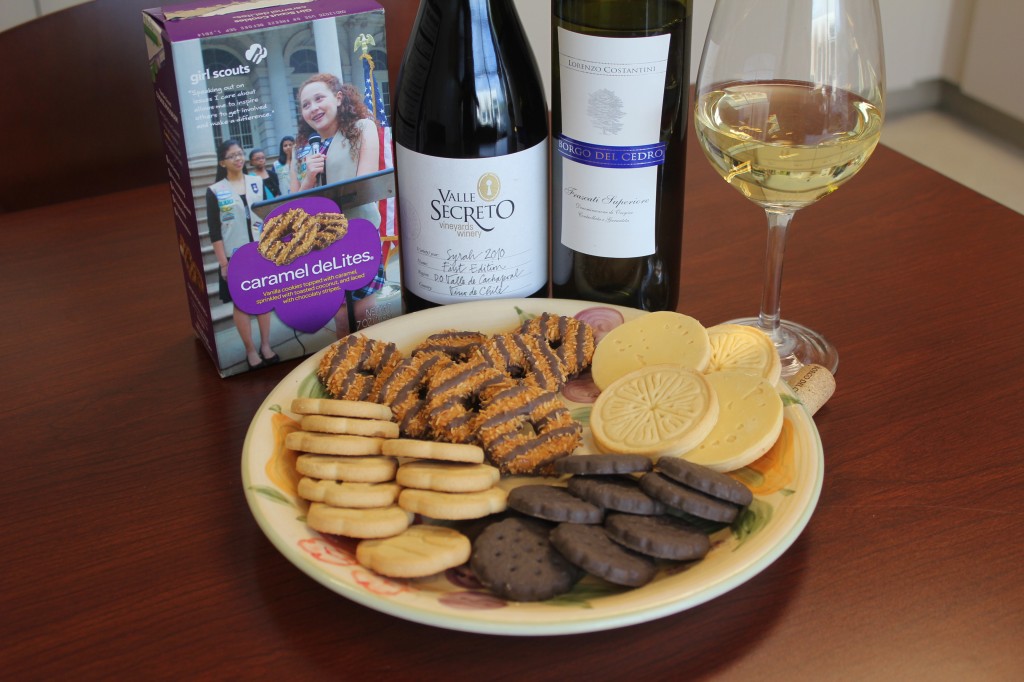 Posted in Recipes and Pairings