Don's September Collector's Series Top Picks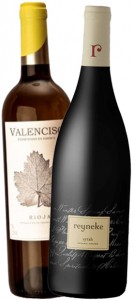 The Collector Series Top Picks are always fraught with angst, but here is goes.  My first Top Pick this month belongs to the folks at Reyneke and their elegant, flavorful, beautifully balanced 2011 Stellenbosch Syrah.  Reyneke's 2011 Syrah is truly world class Syrah.  It exhibits the elegance and polish that one expects from top notch producers from France's Rhône Valley as well as plenty of ripe fruit and a wonderful array of complex flavors.  This is South African wine at the top of its game, a wine to sip and enjoy with cheese or the best meal one can muster.
My second Top Pick is really a toss-up.  Valenciso's 2011 Rioja Blanco is perhaps the finest white Rioja I have tasted in decades, but it is still young and in need of additional time in bottle to fully blossom.  Rustenberg's 2010 John X. Merriman is another classic, a meritage or red Bordeaux blend that highlights how good South African wine can be and how dedicated many of the folks on Africa's Western Cape are to making great wine.  Rustenberg's John X. Merriman, also, outshines many red Bordeaux and California meritage offerings costing twice the price.  But like the Valenciso Rioja Blanco, it, too, is quite young.  So, decide if you're in the mood for white or red.
A votre santé.
Don Lahey
Posted in Featured Selections, Notes from the Panel