Wine Wedding Gift Ideas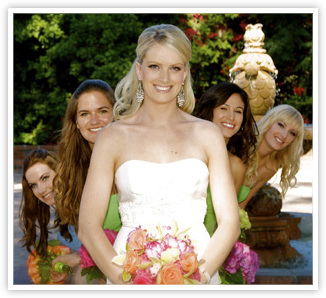 It wasn't always so difficult to find a unique and special wedding gift... when newlyweds married in their twenties! Nowadays, many couples are combining households when they get married, which means they have two of everything. Having too much stuff makes finding a great gift that much tougher, but why not give them a unique wedding gift that they can enjoy together: a membership to The International Wine of the Month Club!
With their own monthly wine club, like our new Bold Reds Wine Club, the newlyweds will have the chance to enjoy a romantic evening together and try incredible wines from award-winning domestic and international wineries. You can choose to send two reds, two whites or one of each, and you can make the gift even more memorable by combining it with our monthly chocolate, beer, cigar, cheese, and flower clubs through our Design Your Own Club™ program!
Don't give the newlyweds another batch of towels or a cheap toaster – give them something they'll never forget with a membership to our monthly wine club.
The Perfect Wine Gift for Bridesmaids and Groomsmen
If you're looking for a great wine gift for your bridesmaids or groomsmen, then consider buying them a membership to our monthly wine club! Your friends are happy to be a part of your big day, so return the favor by gifting them two new bottles of wine every month. You might even be able to get them to share!
Don't forget to add a membership to our wine of the month club, or any of our other great monthly clubs, to your bridal registry or wedding registry. Just give us a call at 800-625-8238 and we'll take care of the rest.
Gifting a Wine Club Membership for a Wedding is Easy, Affordable and Customizable
Choose one of our four wine club membership options – our new Bold Reds Wine Club, or our Premier, Masters, and Collectors Series clubs.
Customize your gift by selecting a 2- to 12-month membership that ships monthly, every other month, quarterly, or on whatever schedule you would prefer.
Create a personalized gift announcement to include with your gift, or ask that it be emailed to the recipient on a selected date.
Customize your gift membership by combining it with our other monthly clubs through our Design Your Own Club Program!
No wrapping, no waiting, and no time spent at the post office – just order online or over the phone and let us handle the rest.
Rest easy knowing that you're sending outstanding wines to the lucky couple, or to your bridesmaids and groomsmen.