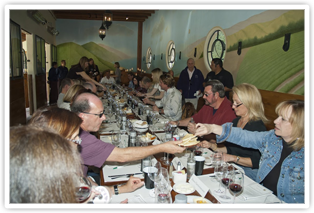 September 9-11, 2016
Northstar, CA – Autumn Food & Wine Festival
"The 31st Annual Autumn Food & Wine Festival is recognized as the premier gourmet food, wine, beer & spirits festival in Northern California. Farm to table dinners, celebrity chefs, hands-on cooking demos, food, wine, beer and spirits pairings, trailside hikes and tastings, unique seminars, mixology series and the ultimate finale, the Sunday Culinary Competition and Grand Tasting. Autumn Food and Wine was voted one of the top 10 food festivals in the country by USA Today."
For information on hotels, wines, and restaurants, visit Lake Tahoe Autumn Food & Wine Festival webpage.
September 14 – November 14, 2016
Orlando, FL – Epcot® International Food & Wine Festival
"Embark on a culinary adventure of eclectic cultures, global cuisines and the finest wine country offerings at the Epcot International Food & Wine Festival Presented by CHASE. Taste Your Way Around the World: Each fall, as the seasons transform, so too does Epcot—where dozens of unique flavors and fun experiences unfold across the park. Delicious Surprises Await: Enjoy the pinnacle of food and wine celebrations, celebrity chef cooking demos and some of the most unique dining opportunities in the world."
Visit The Epcot International Food & Wine Festival webpage for all the details.
September 15-18, 2016
Las Vegas, NV – Las Vegas Food & Wine  Festival
"A celebration to kick off the 2016 Las Vegas Food & Wine Festival. Make your escape and join us for one of our most titillating events yet. The Las Vegas Food & Wine Festival offers every extravagance right at your fingertips, and is set against the luxury backdrop of the exclusive SLS Las Vegas Casino and Resort. Savor the exceptional at every turn as you delight in the finest cuisine and spirits that Las Vegas has to offer. We invite you to delve into one of the most decadent environments in this desert oasis, as you explore the world famous SLS Las Vegas Casino and Resort. Private poolside cabanas and unfettered views are just a few of the luxurious accommodations that await you at this dazzling venue."
Tickets, accommodations, and schedule information is located on The Las Vegas Wine & Food Festival's webpage.
September 15-18, 2016
Palisade, CO – Colorado Mountain WineFest
"Take in all that Colorado Winefest has to offer from food and wine pairings, chocolate and wine tastings, educational seminars and more. The "Festival in the Park" takes place on Saturday, Sept. 17 and is the state's largest and oldest wine festival featuring dozens of Colorado wineries, live music, a grape stomp, chef demonstrations & seminars. Please note that all Mountain Winefest events require a separate ticket and all ticket holders must be 21 years of age with valid ID to enter."
Please visit Colorado Mountain Winefest for additional information.
September 23-24, 2016
New York City, NY – Wine Riot

"Wine Riot is your all access pass to hundreds of new wines. With two parts education and one part revolution, Wine Riot has reinvented "wine tasting" for the thirsty and curious. Grab a glass and hit the floor — it's you unleashed against 250 wines from across the globe. Travel the world of wine all under one roof and tackle things you've never tried before. We've rallied up a team of die-hard experts to bring you the brain juice: interactive booths and crash courses loaded with tips and tricks for conquering the wine world. Fueling your night of conquest is a tireless DJ, photo booth, temporary tattoos, and a few thousand of your closest friends. The best part is, we made an app that tracks your favorite wines and shows you where to buy them later, arming you with all the tools needed for total wine domination."
For more information, visit Wine Riot's website.
September 23-25, 2016
Chicago, IL – Bon Appétit presents Chicago Gourmet
"For a glorious weekend in September, Millennium Park becomes the perfect canvas for Bon Appétit presents Chicago Gourmet and there's so much to do, see, and most importantly, taste. Do you have a favorite chef? Two stages present lively demos where top chefs show off their techniques and share their stories. Thirsty? Take part in the interactive wine and cocktail seminars that will expand your knowledge and your palate. Hungry? Follow the sights, sounds and aromas to the Great Lawn where the best restaurants, wineries, spirit purveyors, and breweries offer tastings of gourmet creations that will captivate and inspire, amaze and delight. Make your plans now so you don't miss a single, delicious second. Now in its ninth year, Chicago Gourmet is excited to introduce our first-ever Host Chef – Rick Bayless of the acclaimed Frontera Restaurants. Additionally, a weekend-long theme – Food Is Art! – will showcase the culinary arts and explore its vibrant connections to art of many kinds. You'll find fun and interactive art components throughout the event including Friday night's popular Hamburger Hop and the exclusive Grand Cru tasting."
The Chicago Gourmet's webpage has additional information.
September 29 – October 2, 2016
Newport Beach, CA – Newport Beach Wine & Food Festival
"This year's lineup of events begins on Thursday and Friday, with the installment of the Festival's first-ever Taste Around Town event series in partnership with SCANPAN, where you'll enjoy cuisine at Newport Beach restaurants prepared and hosted by celebrity chefs, local tastemakers and master sommeliers. During the Daytime Festival on Saturday and Sunday at the beautiful Newport Beach Civic Center, taste, sip and learn with our culinary masters, sommeliers, restaurants, wineries and more. Be sure to also check out our new VIP ticket offerings for Daytime Festival that are guaranteed to delight all the senses and more!"
Visit Newport Beach Wine & Food Festival for complete information.