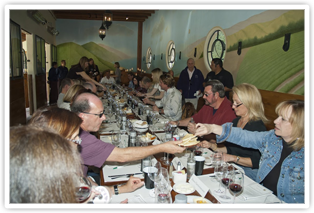 September 14 – November 14, 2016
Orlando, FL – Epcot® International Food & Wine Festival
"Embark on a culinary adventure of eclectic cultures, global cuisines and the finest wine country offerings at the Epcot International Food & Wine Festival Presented by CHASE. Taste Your Way Around the World: Each fall, as the seasons transform, so too does Epcot—where dozens of unique flavors and fun experiences unfold across the park. Delicious Surprises Await: Enjoy the pinnacle of food and wine celebrations, celebrity chef cooking demos and some of the most unique dining opportunities in the world."
Visit The Epcot International Food & Wine Festival webpage for all the details.
November 2-4, 2016
Denver, CO – Denver International Wine Festival
"At Denver International Wine Festival there are enough events to pack into four days, including a food-and-wine pairing competition (contestants are Colorado chefs); a tasting of 400 wines, beers, spirits; educational seminars about wine; and a daylong tour of three local wineries, plus one distillery."
Visit Denver International Wine Festival webpage for all the details.
November 5, 2016
Boca Raton, FL – Boca Raton Wine & Food Festival
"Please your palate, step into your stride and enjoy the largest outdoor Culinary Affair in South Florida during the 7th Annual Boca Raton Wine & Food Festival on Saturday, November 5th, 2016. The special 7th Annual Celebration takes place at Sanborn Square Park in downtown Boca Raton. Saturday evening, chefs from the tri-county area converge upon the festival grounds for the Best Florida Food Festival event the Grand Tasting, A Culinary Affair; 6 PM to 10 PM. And, for you Craft Brew lovers we have added a very special area inside the Grand Tasting for the 3rd Annual Craft Brew Battle, A Hoppy Affair!"
Tickets, accommodations, and schedule information is located on Boca Raton Wine & Food Festival's webpage.
November 12, 2016
Portland, OR – Northwest Food & Wine Festival

"In its eleventh year, the legendary Northwest Food and Wine Festival returns as the definitive wine festival in Portland with a targeted half-day wine and food celebration. The festival brings the highest quality regional wines, spirits, beers, foods and prominent chefs and restaurants. It's designed to present a rich and rewarding experience for wine lovers, gourmet food enthusiasts and industry experts. For all involved, it offers a great opportunity for direct conversation."
For more information, visit Northwest Food and Wine Festival's website.
November 13-14, 2016
Des Moines, IA – Iowa's Premier Beer, Wine & Food Expo

"Iowa's Premier Beer, Wine & Food Expo, presented by Hy-Vee, will be a melting pot for culinary enthusiasts throughout the Midwest, offering the opportunity to discover the latest cooking techniques from local and regional culinary experts.
A portion of the event's proceeds will be donated to Variety, The Children's Charity."
For more information, visit Iowa's Premier Beer, Wine & Food Expo's website.
November 14-20, 2016
San Diego, CA – The San Diego Bay Wine + Food Festival™
"The San Diego Bay Wine + Food Festival™ returns November 14-20, 2016, for a larger than life indulgent experience. Immerse yourself in new events, the best wines from around the world and some of today's biggest celebrity chefs and culinary personalities. Join over 150 wineries, breweries and spirit purveyors, 60 of San Diego's best restaurants, and 10,000 wine and food aficionados from across the nation for the biggest wine and food celebration on the West Coast."
The The San Diego Bay Wine + Food Festival™'s webpage has additional information.
November , 2016
New York City, NY – Beaujolais Nouveau Day
"Join Georges Duboeuf in celebrating this annual French event with wine, food, music, and more! Beaujolais Nouveau Day is a 100+ year old tradition of enjoying the first wine of the harvest and the fruits of the year's labor with friends both new and old. Beaujolais Nouveau can only be released at 12:01 am on the third Thursday of November. Join Georges Duboeuf, the most celebrated name in Beaujolais, for the countdown on Beaujolais Nouveau Eve – Wednesday, November 19 – to sample up to seven wines from the region in our pop-up vineyard tasting room. You can also enjoy a selection of Beaujolais and Mâconnais wines paired with delicious bites from Beecher's Handmade Cheese in our French café, all while you groove to the sounds of live French jazz and gypsy swing from The Bailsmen. Stay for the grand finale at midnight, when we pop the corks on this year's Beaujolais Nouveau. This is one French party you won't want to miss! Ticket includes wine and entertainment. Delicious and reasonably priced food is available for purchase, with free samples of MonS "Persillé du Beaujolais" cheese for good measure."
Visit Beaujolais Nouveau Day for complete information.