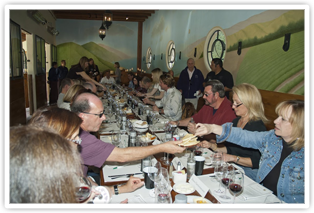 June 8-11, 2017
Kapalua, HI – Kapalua Wine and Food Festival
"A collaboration of Kapalua Resort partners creating a new spin on the longest running food and wine event in the USA. The annual Kapalua Wine and Food Festival is a celebration of epicurean excellence showcasing the finest in food and wine and embracing all things Hawaiian – notably – the fabulous culinary bounty on Maui and here at the world-renowned Kapalua Resort."
Hotel, ticket, and event information is located on the Kapalua Wine & Food Festival website.
June 8-11, 2017
Vero Beach, FL – Vero Beach Wine + Film Festival
"YOU'LL ENJOY: 30+ Exclusive Wine Tasting Experiences at WOW! (World of Wine) VBWFF, Hollywood + WINE Celebrity Winemakers Showcase, Vino Veritas Vintner Dinners by the Sea, 75+ Multi-Award Winning Films Including US & Florida Premieres, Virtual Vero – The New Frontier Film Features, Filmmakers and Industry Talent From All Over the World"
Tickets and more information are available at Vero Beach Wine + Film Festival.
June 9-11, 2017
Monterey, CA – The Monterey Wine Festival
"Now in its 41st year The Monterey Wine Festival has established itself as the premier wine & food event in Monterey. Saturday & Sunday lucky guests will fine savoring bites of wonderful foods that pair well with beers and spirits and sips of world class wines. Now the festival features many new editions like cocktail camp, an entire array of craft spirits and more that keep guests happy and the palate alive with anticipation. Beers and live music added into the mix make this a not to be missed celebration,"
All the information and maps can be found at Santa Barbara Vintners New Release Spring Weekend's webpage.
June 11, 2017
Ojai, CA – Ojai Wine Festival

"General admission includes unlimited tastes of wine and beer and an elegant crystal keepsake wine glass. As you enter the event, an exceptional collection of wineries awaits you. For beer lovers, our beer garden offers a fantastic variety of thirty specialty beers. Discover a superb selection of local restaurants selling delicious culinary delights. Our silent wine auction has become a popular attraction featuring fine wines, private tasting parties, VIP winery tours and other wine related items. In addition we have arts and crafts vendors, musical entertainment, a lakeside dance floor, and free boat rides on the Rotary boat."
Please visit Ojai Wine Festival for further information.
June 16-17, 2017
Sugar Beach, Toronto, ON – The Wine & Spirit Festival

"The Wine & Spirit Festival is a national, two-day destination event showcasing the talents of the world's most renowned wine, beer, cider & spirit producers along with chefs and culinary personalities.
This is a pay as you go event. Admission includes five vouchers and more can be purchased onsite – cash only. Featured wine, spirits, beer, cocktails, ciders and coolers, vary in price and quantity, depending on alcohol volume and the price of ingredients. Vendors charge what they see fit for their products. Most samples/drinks range between 1 and 4 vouchers."
For more information on this exciting event, please visit The Wine & Spirit Festival's webpage.