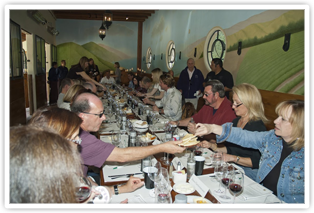 April 5-9, 2017
Boston, MA – Boston Wine Festival
"WHO IS THE TASTE OF VAIL: Taste of Vail showcases more than 30 of Vail's finest chefs and restaurateurs alongside the owners and winemakers from nearly 50 of the countries' top wineries. WHAT IS THE TASTE OF VAIL: Taste of Vail is an idea, a platform for promoting the Vail lifestyle via the community's ever-evolving food and beverage assets. This is done through the organization's iconic food and wine event in the spring, along with additional activities throughout the year designed to support and elevate the community. WHY ATTEND THE TASTE OF VAIL: Taste of Vail is the nation's premier spring food and wine festival held at iconic locations throughout North America's most popular mountain resort showcasing the finest chefs in Vail and the nation's top vintners."
All the information can be found at Taste of Vail.
April 20-23, 2017
Pebble Beach, CA – Pebble Beach Food & Wine
"Pebble Beach Food & Wine is the premier epicurean lifestyle event on the West Coast, matching 250 acclaimed wineries and 100 celebrity chefs to create a hedonistic four-day destination on one of the most picturesque strips of coastline in the world. Throughout the weekend you'll enjoy intimate access to the pinnacle of culinary and wine talent at wine tastings, cooking demos, and some of the most exclusive, unique dining opportunities available in the world."
Tickets and more information are available at The Pebble Beach Food & Wine Festival.
April 20-23, 2017
Santa Barbara, CA – Santa Barbara Vintners New Release Spring Weekend
"The Santa Barbara Vintners New Release Spring Weekend is a chance to try more of that Santa Barbara County wine you love, get to know the people who make it and where they make it from. Throughout the weekend select wineries host their own events on Thursday, Friday, Saturday, and Sunday, ranging from winemaker dinners to barrel tastings in addition to the signature Santa Barbara Vintners events."
All the information and maps can be found at Santa Barbara Vintners New Release Spring Weekend's webpage.
April 21-22, 2017
Dana Point, CA – California Wine Festival

"Experience the quintessential California wine tasting and enjoy hundreds of California's finest vintage wines, delicious gourmet foods samples and lively music. Discover new wines at every Festival, find a new favorite and pair it with a dizzying variety of fresh gourmet appetizers like artisan breads, cheeses, olive oils and so much more. Enjoy an afternoon of unlimited fun, food and music – at the biggest wine festival under the sun!"
Please visit California Wine Festival for further information.
April 21-22, 2017
Boston, MA – Wine Riot

"Wine Riot is your all-access pass to hundreds of new wines. With two parts education and one part revolution, Wine Riot has reinvented "wine tasting" for the thirsty and curious. Grab a glass and hit the floor — it's you unleashed to sample wines from across the globe. Travel the world of wine all under one roof and tackle things you've never tried before. We've rallied up a team of die-hard experts to bring you the brain juice: interactive booths and crash courses loaded with tips and tricks for conquering the wine world. Fueling your night of conquest is a tireless DJ, photo booth, our famous Bubbly Bar and a few thousand of your fellow winos."
For more information on this exciting event, please visit Wine Riot's webpage.