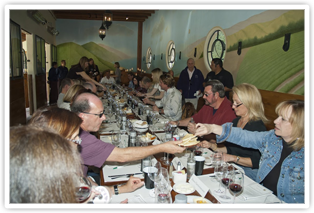 August 5, 2017
Woodland Park, CO – 10th Annual Vino and Notes
"Bringing together some of Colorado's finest wineries, with great jazz and food to benefit Habitat for Humanity of Teller County!"
Ticket and event information is located on the Vino and Notes's website.
August 9-13, 2017
Steamboat Springs, CO – Steamboat Wine Festival
"The Steamboat Wine Festival is a premier destination event where master winemakers, culinary greats, and our distinguished guests gather to play, wine, and dine in beautiful Steamboat Springs, Colorado. Experience more than 100 food artisans, wineries, breweries, distilleries, epicurean purveyors, and locally-made products at this ultimate food and wine experience.
Whether you are a full-fledged foodie or an emerging gourmand, you are sure to find more than one event to whet your appetite. There is something for everyone – from food and wine tastings, to seminars and cooking demonstrations, to outdoor adventures with food & wine influences, there are tastes and temptations at every turn."
For all the exciting details, visit Steamboat Wine Festival's webpage.
August 11-12, 2017
Omaha, NE – Nebraska Balloon & Wine Festival Tickets
"This is your chance to see exciting Hot Air Balloons launch at 7 PM and the colorful Hot Air Balloons glow at 9 PM each evening (weather permitting)while enjoying great wine, delicious food and listening to some of the areas best bands!"
All the information can be found at Nebraska Balloon & Wine Festival's webpage.
August 12-13, 2017
Canandaigua, NY – New York State Wine Festival

"The New York State Wine Festival is a celebration of all of the incredible wines and wine producers across the state. Known as the Finger Lakes Riesling Festival until 2017, the event has expanded to focus solely on wine and recognize the true depth of viticulture the Empire State possesses. The Wine Festival now showcases all varieties of wine that make up a $4.8 billion industry in New York State.
Thousands of people are expected to attend the two-day event held at the New York Wine & Culinary Center, a singularly unique venue that highlights the very best New York has to offer to the world's palate. Select vendors featuring signature foods and beverages that complement the wine tasting experience will be on site throughout the weekend, and the Culinary Center will offer cooking demonstrations. In addition, the Wine Festival continues to serve as a critical fundraiser for the Canandaigua Family YMCA, raising more than $250,000 to date."
Please visit The New York State Wine Festival for further information.
August 18-19, 2017
Asheville,  NC – Asheville Wine & Food Festival
"The 2017 Asheville Wine & Food Festival makes it possible to sample every delicious flavor Asheville has to offer. The GRAND TASTING WEEKEND is the largest culinary gathering of its kind in downtown Asheville. Join the Festivalians gathered to experience a riot of local and international wineries, local area breweries, distilleries, restaurateurs, chefs, farmers, and artisan food producers. Meet farmers, chefs, cookbook authors, and artisan beverage makers, as well as regional crafters. Culinary events will take place throughout the days including the Chef Series and the International Wine Competition."
Visit Asheville Wine & Food Festival's webpage for more information about this event.
August 21-27, 2017
Jacksonville, OR – Oregon Wine Experience®
"You won't want to miss this party! Each August, thousands of people gather together for one of the biggest wine and culinary celebrations in Oregon. The Oregon Wine Experience® is a week-long event featuring extraordinary Oregon wines, amazing culinary creations, and one of a kind experiences! Over the course of seven days, guests have the opportunity to explore, learn, and indulge in all the beauty and bounty that Southern Oregon offers.
Held at the historic Bigham Knoll Campus in Jacksonville, as well as at winery and restaurant venues around the region, this year's festival is destined to be the biggest and best yet. Whether you choose to attend just one day or stay for the whole week, Oregon Wine Experience® is an essential wine event like none other in the state."
Visit Oregon Wine Experience®'s webpage for more information about this event.
August 24-27, 2017
Los Angeles, CA – Los Angeles Food & Wine Festival
"Now in its fifth year, the Los Angeles Food & Wine Festival, presented with generous support from founding partners FOOD & WINE and Lexus, is a four-day epicurean event showcasing the finest in food and drink culture throughout Los Angeles, and culinary personalities from throughout the nation. Set amidst one of the most iconic streets in the country and washed in cultural sophistication due to its thought leading residents like the Walt Disney Concert Hall, The Colburn School of Music, The Music Center, Grand Park, MOCA, and the much anticipated Broad Museum., the event spans the city and offers guests the chance to sample the cuisines and products from some of the most prominent epicurean influencers, while enjoying the sights and sounds of the entertainment industry's brightest talents. The talent coming for this weekend is second to none for a food and wine festival including celebrated chefs such as Alex Guarnascehlli, Tyler Florence, Curtis Stone, Michael Chiarello, Michelle Bernstein, Thomas Keller, Elizabeth Falkner and local favorites such as Ray Garcia, Michael Fiorelli, Neal Fraser and David Lefevre."
Additional information on the celebrity chefs, schedule, cuisine, and wine can be found at Los Angeles Food & Wine Festival website.