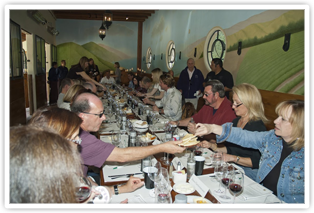 October 13-15, 2017
Philadelphia, PA – TASTE! PHILADELPHIA!
"TASTE! PHILADELPHIA showcases the finest in wine, spirits and gourmet foods along with the talents of local chefs and culinary personalities.
Presented by your Fine Wine & Good Spirits stores, Kathie Lee is scheduled to appear on Saturday, October 14, during our 11am-3pm session. Get your tickets today. They will sell fast!"
Ticket and event information is located on the TASTE! PHILADELPHIA!'s website.
October 14-15, 2017
Amherst, VA – Wine & Garlic Festival
"Virginia wines, live entertainment, arts, crafts and GARLIC! Tastings by guest wineries, multiple stages with live entertainment, over 150 unique arts, crafts and specialty foods.  The Virginia Wine & Garlic Festival is Virginia's largest agricultural festival, and last year was awarded first place for Lynchburg Living's 2016-2017 "Best Festival or Event"!"
All the information can be found at Wine & Garlic Festival's webpage.
October 13-14, 2017
Calgary, Alberta, Canada – Rocky Mountain Wine & Food Festival

"We're turning 20 this year, so bring on the celebration! Explore an incredible array of dynamic wines, smooth spirits and downright delicious beers from around the globe, all under one roof. Cap it all off with tantalizing bites from some of Calgary's best restaurants, and you've got a can't-miss event. After all – that's what we do, and with 20 years under our belt, we'd say we're nearly aged to perfection."
Please visit Rocky Mountain Food & Wine Festival for further information.
October 17-22, 2017
Portland, ME – Harvest on the Harbor™
"Harvest on the Harbor is Maine's Premier Food + Wine Festival! Eat, drink, and enjoy exceptional food, beer, wine, and spirits from Maine and around the world. Award-winning chefs, epicurean presentations, and live entertainment – all happening on Portland's waterfront!"
Visit Harvest on the Harbor™'s Eventbrite page for more information about this event.
October 20-22, 2017
Atlanta, GA – Taste of Atlanta
"Taste of Atlanta, the city's must-do, unforgettable three-day food festival returns October 20, 21 & 22, 2017 at our new location in Historic Fourth Ward Park! More than 90 neighborhood favorites will show off their most craveable dishes, the hottest local chefs will strut their stuff on three live demo stages and patrons of the Grand Tasting Event will hit boozy nirvana sampling craft beers, wine and creative cocktails.
The 2017 event will take YOU on a foodie adventure through the city's many diverse neighborhoods by featuring the chefs and restaurants that give these communities their unique flair.
Food lovers of all ages are invited to join Taste of Atlanta in October in celebrating the dynamic energy and variety of the local restaurant scene while savoring what makes Atlanta the food capital of the South!"
Visit Taste of Atlanta's webpage for more information about this event.