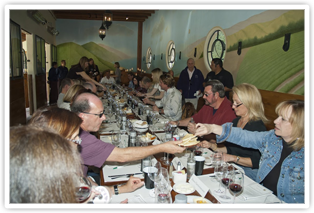 January 13 – March 31, 2017
Boston, MA – Boston Wine Festival
"The Boston Wine Festival features an all-star lineup of intimate winemaker hosted dinners, seminars and receptions taking place from January through March. Join us at one or several of the exciting events featured at the Boston Wine Festival including many of the best wineries and top personalities from the world of wine."
For the complete event calendar and additional details, visit Boston Wine Festival.
January 20-29, 2017
Mendocino, CA – Crab and Wine Days
"Mendocino County appreciates its relationship with the forest and sea by celebrating their harvests! Throughout Mendocino County, restaurants, winemakers, and even the fishermen welcome locals and visitors alike to join in celebrating. Enjoy crab and seafood specialties with pairings of a wide variety of locally-crafted Mendocino wines during this popular festival.
Mendocino's Crab and Wine Days is rated one of America's Top 10 Seafood & Wine Festivals by Coastal Living Magazine. You'll devour the all-you-can-eat crab feeds, winemaker's dinners, wine competitions, crab cruises, cooking classes, family-style cioppino feeds and crab cake cook off and lots of seafood! Many restaurants and Inns are celebrating with specials, and events throughout the county, from the coast to the inland valleys."
For the complete schedule of events, visit Crab and Wine Days website.
January 21, 2017
Santa Barbara, CA – Winter Wine Classic
"Experience the quintessential California wine tasting and enjoy hundreds of California's finest vintage wines, delicious gourmet foods samples and lively music. Discover new wines at every Festival, find a new favorite and pair it with a dizzying variety of fresh gourmet appetizers like artisan breads, cheeses, olive oils and so much more. Enjoy an afternoon of unlimited fun, food and music – at the biggest wine festival under the sun!"
Tickets and all the details can be found at Winter Wine Classic's website.
January 25-29, 2017
Key West, FL – Key West Food & Wine Festival

"The Key West Food and Wine Festival is a series of wine and food themed events showcasing a diverse range of wines and inventive cuisine, hosted by their passionate creators at iconic island locations.
The eighth annual Key West Food & Wine Festival will be January 25-January 29, 2017.
Over 30 events include waterfront sunset tastings, winemaker and chef collaborations and local funky events that present an authentic taste of Key West.
The festival attracts thousands of culinary explorers from around the country who descend on the tropical island to escape the winter and delight their senses."
Visit Key West Food & Wine Festival for additional information on this new and exciting event.
January 27-29, 2017
Naples, FL – The Naples Winter Wine Festivals

"The Naples Winter Wine Festival is the most successful international charity wine auction in the world, bringing together renowned vintners and chefs with wine enthusiasts and philanthropists for a threeday Festival that raises millions of dollars for underprivileged and at-risk children. Every dollar raised under the tent funds the Festival's founding organization, the Naples Children & Education Foundation (NCEF), whose annual grants and strategic initiatives have provided more than 200,000 children with the services and resources they need to excel."
For further information, please visit The Naples Winter Wine Festival website.