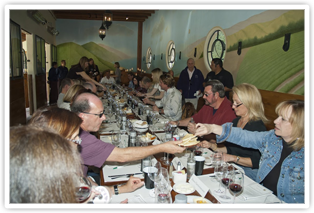 September 14 – November 14, 2016
Orlando, FL – Epcot® International Food & Wine Festival
"Embark on a culinary adventure of eclectic cultures, global cuisines and the finest wine country offerings at the Epcot International Food & Wine Festival Presented by CHASE. Taste Your Way Around the World: Each fall, as the seasons transform, so too does Epcot—where dozens of unique flavors and fun experiences unfold across the park. Delicious Surprises Await: Enjoy the pinnacle of food and wine celebrations, celebrity chef cooking demos and some of the most unique dining opportunities in the world."
Visit The Epcot International Food & Wine Festival webpage for all the details.
October 13-16, 2016
New York, NY – New York City Wine and Food Festival
"NYCWFF is a national, star-studded, four-day event showcasing the talents of the world's most renowned wine and spirits producers, chefs, culinary personalities and America's most beloved television chefs while fighting to end hunger.
Considered the largest food and wine festival in New York City with more than 100 events, NYCWFF is widely recognized for its tastings in celebration of America's favorite foods, intimate dinners with world-renowned chefs, late night parties, hands-on classes, educational seminars, coveted wine tastings and more. Join over 55,000 passionate gourmands and aficionados and you'll sip, swirl and savor the world-class cuisine, wine and spirits served up by more than 500 of the industry's finest."
Visit New York City Wine & Food Festival webpage for all the details.
October 14-15, 2016
Calgary, Alberta, Canada – Calgary Rocky Mountain Wine & Food Festival
"The Rocky Mountain Wine & Food Festival is the largest and most exciting wine and food event in Alberta. The Festival offers a chance to sample an extensive variety of wine, scotch, import beer and premium spirits, along with gourmet food samples from local restaurants and hotels. Samples will range from value based to ultra-exclusive, offering something for everyone!"
Tickets, accommodations, and schedule information is located on The Rocky Mountain Wine & Food Festival's webpage.
October 14-15, 2016
Chicago, IL – Wine Riot

"Wine Riot is your all access pass to hundreds of new wines. With two parts education and one part revolution, Wine Riot has reinvented "wine tasting" for the thirsty and curious. Grab a glass and hit the floor — it's you unleashed against 250 wines from across the globe. Travel the world of wine all under one roof and tackle things you've never tried before. We've rallied up a team of die-hard experts to bring you the brain juice: interactive booths and crash courses loaded with tips and tricks for conquering the wine world. Fueling your night of conquest is a tireless DJ, photo booth, temporary tattoos, and a few thousand of your closest friends. The best part is, we made an app that tracks your favorite wines and shows you where to buy them later, arming you with all the tools needed for total wine domination."
For more information, visit Wine Riot's website.
October 20-23, 2016
Portland, ME – Harvest on the Harbor

"Harvest on the Harbor™ is Portland, Maine's annual food & spirits festival featuring a delicious, diverse and engaging line up of events. We curated experiences and partnerships we hope appeal to foodies of all kinds, offering a taste (and sip) for every appetite. Our mission is to help tell the diverse story of the local food and drink scene, foster an inclusive community of passionate food & drink lovers and to give back to our community through this multi-day celebration. This year's festival is being produced with the support of lead media partner Maine Magazine and will benefit Full Plates Full Potential. Your participation can help end childhood hunger in Maine. We hope you'll join us."
For more information, visit Harvest on the Harbor's website.
October 21-23, 2016
Philadelphia, PA – 2016 TASTE Philadelphia Festival of Food
"TASTE is what it is all about this fall at the 2016 TASTE Philadelphia Festival of Food, Wine and Spirits, presented by Gourmet Shows and being held at the Valley Forge Casino Resort. This year's Festival showcases the finest in wine, spirits and gourmet foods, along with the talents of local and celebrity chefs. Our annual gastronomical festival in the Delaware Valley, the Philadelphia Festival of Food, Wine, and Spirits–will be held October 21-23, 2016 in Valley Forge. This three day event will feature the many award-winning wineries from around the world, including three days of celebrity chef demonstrations, wine tastings, food from the best restaurants in the region at our Zagat Restaurant Row, and food centric exhibits."
The 2016 TASTE Philadelphia Festival of Food's webpage has additional information.
October 21-23, 2016
Atlanta, GA – Taste of Altanta
"Now in its 15th year of serving up the city's best fare, Taste of Atlanta is bigger, bolder and better than ever! The unforgettable three-day food festival returns on October 21, 22 & 23. More than 90 neighborhood favorites will show off their most craveable dishes, the hottest local chefs will strut their stuff on four live demo stages, and VIP patrons will hit boozy nirvana sampling craft beers, wine and creative cocktails.
This year's event takes festival-goers on a foodie adventure through the city's many diverse neighborhoods by featuring the chefs and restaurants that give these communities their unique flair.
Food lovers of all ages are invited to join Taste of Atlanta this October in celebrating the dynamic energy and variety of the local restaurant scene while savoring what makes Atlanta the food capital of the South!"
Visit Taste of Atlanta for complete information.