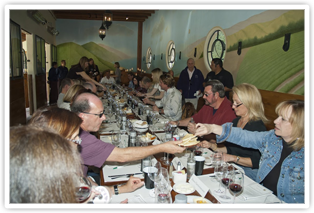 December All Weekends, 2017
Niagara, NY – Holiday Happening
"Sample wine, mead and cider along the trail this holiday season and celebrate our 15th anniversary! Get your holiday shopping done at local wineries.
Each single and couple ticket includes a collectable wooden train ornament from each winery with their logo and year they joined the wine trail. Get your engine to start your "winery train" at your first winery, and get the caboose ornament at your last winery.
Tickets are valid for each day of the event, so you can spread your wine tasting out over five weekends. Please retain your ticket and wine glass if attending multiple days.
Tickets include† 3 tastes of wine each from each participating winery, a commemorative wine glass, and the collectable ornaments. "
Ticket and event information is located on the Niagara Wine Trail's website.
December 9-10, 2017
Southeast Michigan – Holiday Open House
"Take the weekend to enjoy a wonderful drive along the SE Michigan Pioneer Wine Trail and stop at any of our nine wineries to sample and select wines for your holiday celebrations. The wineries will offer chips and dips at each location and welcome you with a smile and of course, wine! This is a great weekend to pick up gifts for family and friends and to try some new things that you may enjoy too. This is a free/no ticket event, just our way of thanking you for doing some of your holiday shopping with us."
All the information can be found at Southeast Michigan Pioneer Wine Trail's webpage.
December 14-17, 2017
Palm Beach, FL – Palm Beach Food & Wine Fest

"This year the Palm Beach Food & Wine Festival is celebrating the 11th year as one of the country's most prestigious and delectable culinary getaways. Held at the quintessential Four Seasons Resort Palm Beach and at select locations on the island of Palm Beach (such as The Breakers, Cafe Boulud, Buccan, PB Catch, Meat Market) and beyond, the festival showcases some of the world's most renowned chefs and wine industry leaders through a collection of dinners, tastings, seminars, and more."
Please visit Palm Beach Food & Wine Fest for further information.
December 16-17, 2017
Ringoes, NJ – Old York Cellars Santa Weekend
"Santa's coming to Old York Cellars! Skip the long lines and enjoy a glass of your favorite wine while getting your picture with the Jolly Old Elf put on a bottle wine! We are aslo featuring Vino Cocoa (wine hot chocolate) available with your tasting or by the glass."
Visit Old York Cellars' event page for more information about this event.